John O'Neill disputes the theory that Mithras was intended as a solar deity. In The Night of the Gods he writes: "The Avestan Mithra, the yazata of light, has '10,000 eyes, high, with full knowledge (perethuvaedayana), strong, sleepless and ever awake (jaghaurvaunghem).'The supreme god Ahura Mazda also has one Eye, or else it is said that 'with his eyes, the sun, moon and stars, he sees everything.' The theory that Mithra was originallya title of the supreme heavens-god–putting the sun out of court–is the only one that answers all requirements. It will be evident that here we have origins in abundance for the Freemason's Eye and 'its nunquam dormio.'" The reader must nor confuse the Persian Mithra with the Vedic Mitra. According to Alexander Wilder, "The Mithraic rites superseded the Mysteries of Bacchus, and became the foundation of the Gnostic system, which for many centuries prevailed in Asia, Egypt, and even the remote West."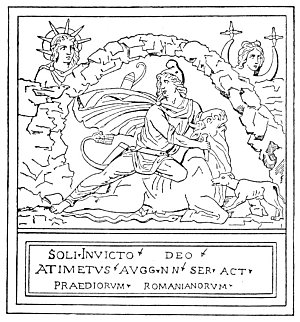 MITHRAS SLAYING THE BULL.
From Lundy's Monumental Christianity. The most famous sculpturings and reliefs of this prototokos show Mithras kneeling upon the recumbent form of a great bull, into whose throat he is driving a sword. The slaying of the bull signifies that the rays of the sun, symbolized by the sword, release at the vernal equinox the vital essences of the earth–the blood of the bull–which, pouring from the wound made by the Sun God, fertilize the seeds of living things. Dogs were held sacred to the cult of Mithras, being symbolic of sincerity and trustworthiness. The Mithraics used the serpent a an emblem of Ahriman, the Spirit of Evil, and water rats were held sacred to him. The bull is esoterically the Constellation of Taurus; the serpent, its opposite in the zodiac, Scorpio; the sun, Mithras, entering into the side of the bull, slays the celestial creature and nourishes the universe with its blood.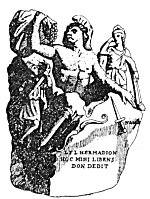 THE BIRTH OF MITHRAS.
From Montfaucon's Antiquities Mithras was born out of a rock, which, breaking open, permitted him to emerge. This occurred in the darkness of a subterranean chamber. The Church of the Nativity at Bethlehem confirms the theory that Jesus was born in a grotto, or cave. According to Dupuis, Mithras was put to death by crucifixion and rose again on the third day.
---
Next: The Ancient Mysteries and Secret Societies, Part Two
Index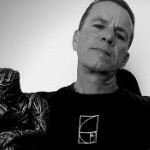 Moe is the founder of GnosticWarrior.com. He is a father, husband, author, martial arts black belt, and an expert in Gnosticism, the occult, and esotericism.