Podcast: Play in new window | Download (Duration: 1:23:26 — 76.4MB) | Embed
Subscribe: Apple Podcasts | Google Podcasts | Spotify | Stitcher | Email | Subscribe to the
In this episode of the Gnostic Warrior, I interview author and spiritual alchemist, Dr. Thom F. Cavalli. Thom Cavalli is a practicing clinical psychologist, author and lecturer on Jungian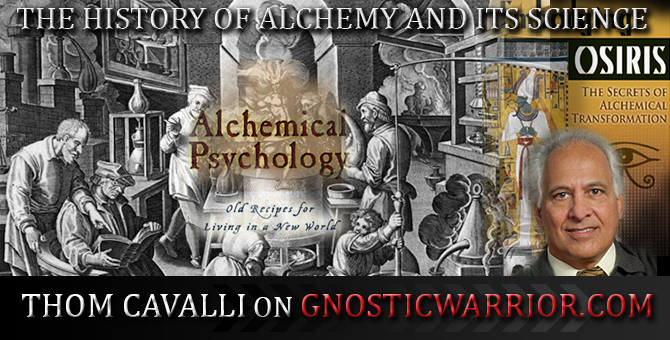 psychology. He authored the popular books, "Alchemical Psychology and Embodying Osiris," and has contributed many articles in scientific journals, including the Jung Journal, the Jungian Society of Scholarly Studies, and the Alchemy Journal.
Dr. Cavalli is a member of the Alchemy Guild and an international presenter on psychological alchemy and other Jungian subjects. In September of this year, he presented his latest research on Egyptian alchemy at Cambridge University in the U.K. He is a regular keynote presenter at the International Alchemy Conference and other prestigious conferences.
Dr. Cavalli explains his book Embodying Osiris, and the origins of alchemy being in ancient Egypt. He talks about this ancient 5,000 year old relationship to their god of the dead, and how mummification was actually a complex alchemical ritual in which he describes that the dismemberment and reanimation of Osiris is the source for alchemy's foundational recipe – solve et coagula. Dr. Cavalli also tells us how alchemy made a huge contribution to the Scientific Revolution.
This interview was conducted by Moe on October 17, 2014 from San Diego County, California, with Thom in Santa Ana, California.
Visit CavalliBooks.com and AlchemicalPsychology.com to learn more about Dr. Cavalli's work, and his books are listed below on Amazon. Please help support the Gnostic Warrior by using our Amazon affiliate links.