A newly released FBI affidavit and LA Times report has revealed that an executive at Disneyland in California is part of a secret 'cabal' steering the city of Anaheim government.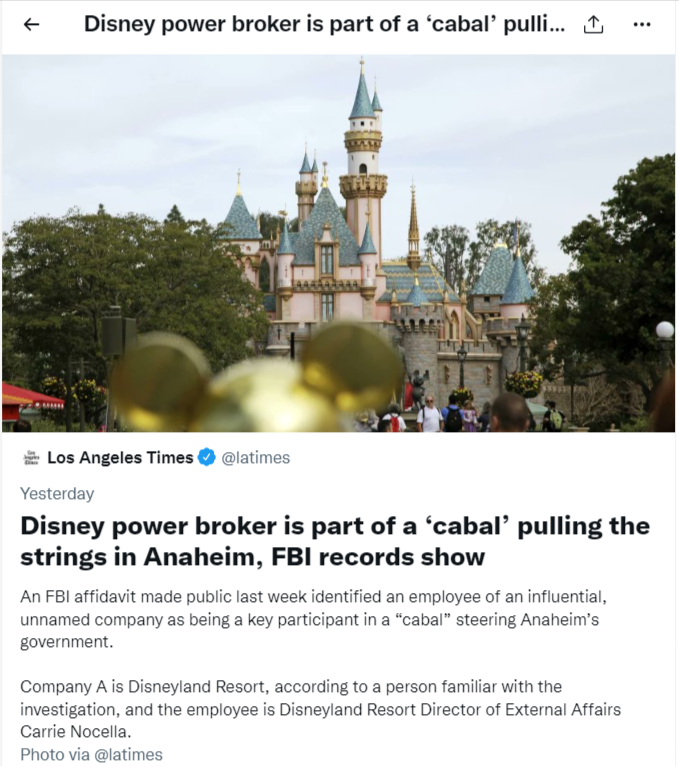 This news comes after just last month when Governor Desantis had to make a special law to strip Disney of its special governing powers last month in Florida.
According to a report by the Los Angeles Times, one of the main employees is Disneyland Resort Director of External Affairs, Carrie Nocella.
The FBI said in a statement how members of a "cabal" manipulated public opinion polls in order to make it appear as though their policies were more popular than they actually were. This information comes from recorded conversations that were obtained by the FBI.
"I know that lobbyists, consultants, and those advocating for certain public policies will, in an attempt to show public support for their viewpoint or policy objectives, commission and fund polls," wrote FBI Special Agent Brian C. Adkins in the complaint.
This is just the latest development in a long-running investigation into corruption in the city of Anaheim.
Anaheim Mayor Harry Sidhu resigned this week amid accusations of corruption in the sale of Angel Stadium in Anaheim, California. Sidhu, who was elected in 2018, is accused of acting against the city's best interests in the sale of the stadium. He has not been charged with any wrongdoing.
The FBI affidavit also accuses Todd Ament, former head of the Anaheim Chamber of Commerce, of being part of the secret cabal and also lying to a mortgage lender in Southern California for the purchase of a $1.45 million home in Big Bear.
"We got you reelected, we expect you to be a loyal member of the team," Ament said  in a November 2020 phone call tapped by federal agents and quoted in their criminal complaint.
"The FBI has been investigating [Todd Ament] for violations of federal criminal law to include 18 U.S.C. § 1014 (false statement to a federally insured financial institution), 18 U.S.C. §§ 1341, 1346 (honest services fraud), 18 U.S.C. § 1343 (wire fraud), 18 U.S.C. §§ 1956, 1957 (money laundering), 18 U.S.C. § 1344 (bank fraud), and fraudulently obtaining a loan under the Coronavirus Aid, Relief, and Economic Security Act ("CARES Act"). Additionally, the IRS has been investigating CW2 for tax-related violations…"
According to the LATimes…
The company has long played a dominant role in Anaheim politics. Some current and former council members, local activists and a past mayor say Disneyland Resort has parlayed its influence into lucrative tax breaks at the expense of city residents and bankrolled friendly politicians with generous campaign donations. Disney has pushed back against such criticism, arguing that the resort provides the city with an important economic engine and is a job creator.
Disney is the largest financial backer of Anaheim's elections, having spent over $1 million on the SOAR campaign in each of the last two elections. This money has then been used to fund campaign ads for candidates that are backed by Disney and other businesses in the resort area.
Disney has transferred another $1.3 million to SOAR ahead of this year's election, meaning they will have a significant influence over the outcome of the vote. This was discussed in an FBI wiretapped call between ringleaders, where it was noted that this could be used to their advantage.
After a newly elected official was elected to the Anaheim Board, Amenti and another of the cabal leaders discussed whether to invite him to a special discussion to let him know how the "family operates."
"I think this would be a lot for him to absorb in his first week [as an elected member of the Anaheim City Council]," said Anaheim Chamber of Commerce CEO Todd Ament, according to the FBI transcript.
"It's kind of like when S.O.A.R. took how the sausage was made to the S.O.A.R. Board to show them how polling works and how we manipulate it," he continued, according to the complaint.
"That's when half S.O.A.R. kind of went off the deep end," Ament added, prompting laughter on the other end of the line from the political consultant, the complaint states.
It appears that instead of Disney being the Happiest Place on Earth, it may be one of the Most Corrupt Places on Earth.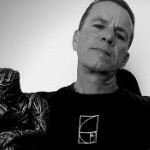 Moe is the founder of GnosticWarrior.com. He is a father, husband, author, martial arts black belt, and an expert in Gnosticism, the occult, and esotericism.