Stefani Germanotta, who is world famous under her stage name "Lady Gaga" revealed to the world in a 2014 interview with Howard Stern that a much older man had raped her. In other interviews, she said that she struggles with "mental issues" due to the sexual assault and is now on antipsychotic medication.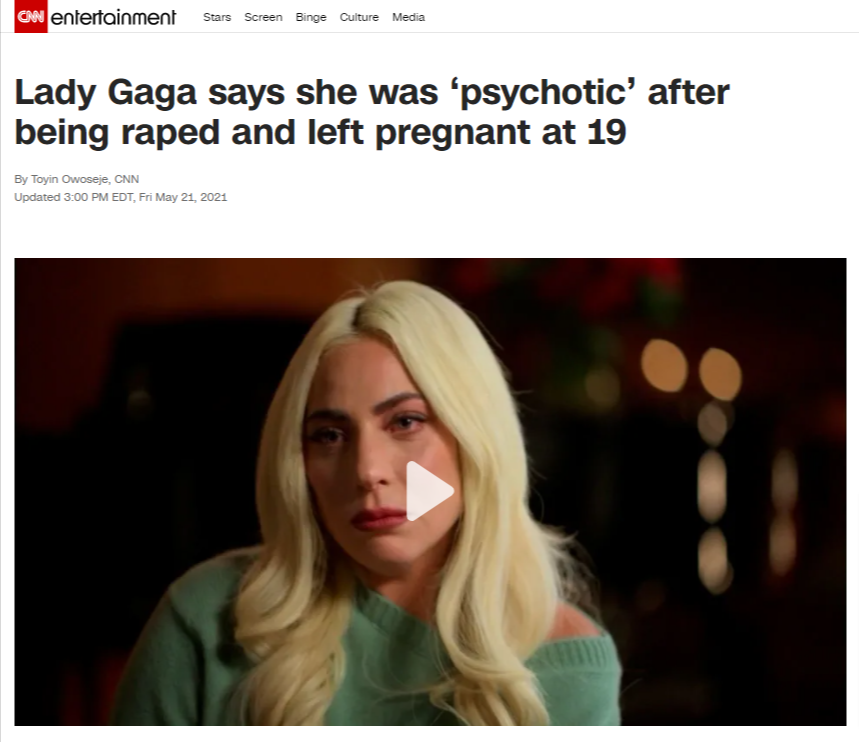 Lady Gaga first made a claim on Howard Stern's SiriusXM radio show and began talking about her song Swine from her 2013 Artpop album. That is when she said she was raped by a man 20 years her senior, although she has never identified her alleged attacker. She was born in 1986 which makes her about 35 years old.
The subject of rape came up in a discussion about the controversy over the singer's SXSW show featuring "vomit painter" Millie Brown throwing up green paint all over Gaga and the stage, which some critics saw as glorifying bulimia.
Asked what inspired her stunt, Gaga replied to Stern;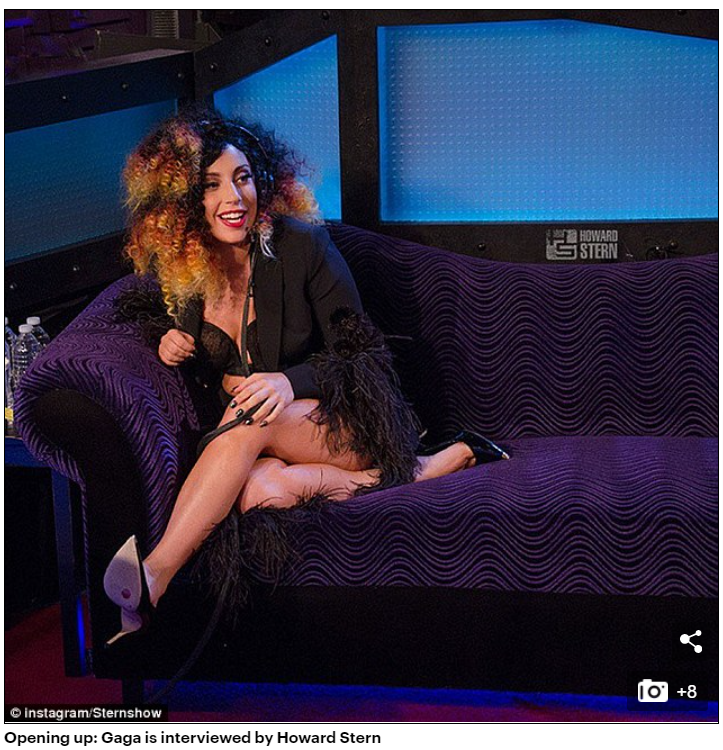 "What I thought was, I wrote a song called 'Swine.' The song is about rape, the song is about demoralization, the song is about rage and fury and passion, and I had a lot of pain that I wanted to release," she said.
"And I said to myself, I want to sing this song while I'm ripping hard on a drum kit, and then I want to get on a mechanical bull — which is probably one of the most demoralizing things that you could put a female on, you know, in her underwear — and I want this chick to throw up on me in front of the world so that I can tell them, 'You know what? You could never ever degrade me as much as I can degrade myself, and look how beautiful it is when I do.'"
She was naive, Lady Gaga says. "It happens every day. It's really scary, and it's sad, and it didn't affect me as much right after as it did about four or five years later."
It's a delayed reaction, said Stern.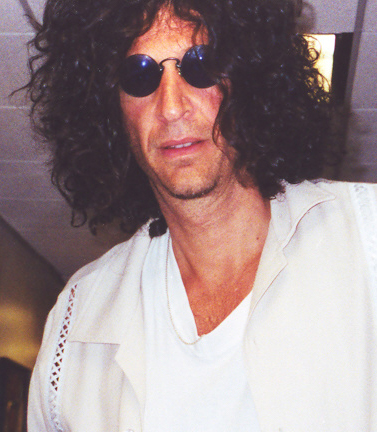 "It hit me so hard. I was so traumatized by it that I was like, 'Just keep going,' because I just had to get out of there," says Gaga.
"When you go through a trauma like that, it doesn't just have the immediate physical ramifications," she explained. "For many people, it has almost like trauma, where you re-experience it through the years after it. It can trigger patterns in your body of physical distress. So a lot of people suffer not just emotional and mental pain, but physical pain as a result of being abused, raped or traumatized in some way."
Stern said he had talked to other women who were raped, and he said, "It almost doesn't register for a couple of years."
Gaga agreed: "I wasn't willing to admit that anything had happened." And, she says, "I didn't tell anybody. I didn't tell myself for the longest time."
Stern asked if a music company executive had raped her. "I feel like you were raped by someone. I think that's what you're saying."
When Stern questioned if she had ever confronted the assaulter, the pop star said no. "I think it would terrify me," She said. "It would paralyze me. I saw him one time in a store, and I was paralyzed by fear. It wasn't until I was a little bit older that I went, 'Wow, that was really messed up.'"
She added that what makes it even more messed up is that he told people they used to date. "You were 20 years older than me. I was a kid. How was that a date?" she asked.
Eventually, the singer had a revelation about the experience and decided to confront it. "All this drinking and all this nonsense, you have to go to the source," she said. "Otherwise, it just won't go away."
Lady Gaga went on to say that she had not previously revealed the assault because "I don't want to be defined by it. I'll be damned that every creatively intelligent thing I ever did is all boiled down to one (expletive) head who did that to me. I'm going to take responsibility."
Gaga also told Stern she has never confronted the guy. "I think it would terrify me. I think it would paralyze me. I saw him one time in a store, and it paralyzed me. It wasn't until I was older that I went, 'Wow, that was really messed up.'"
The singer went on to talk about how the man who raped her was 20 years older than her at the time.
"Because it wasn't until I was a little bit older that I went, 'Wow, that was really messed up," she said.
"You were 20 years older than me. I was a kid."
Here is their 2014 audio discussion.
Following Gaga's interview with Stern, Mark Geragos, the lawyer of singer, Kesha who said Dr. Luke abused her, tweeted a link about the story and asked his followers to "guess who the rapists [sic] was?" When someone responded with Dr. Luke's name, Geragos falsely wrote, "#bingo."
However, Gaga's rep quickly went on record to TMZ that Geragos' insinuation is "absolutely not true," and that Dr. Luke is not involved. "The Dr. Luke lawsuit is utterly incomprehensible," her rep told the news site. "This simply isn't true, and how dare someone take advantage of such a sensitive matter."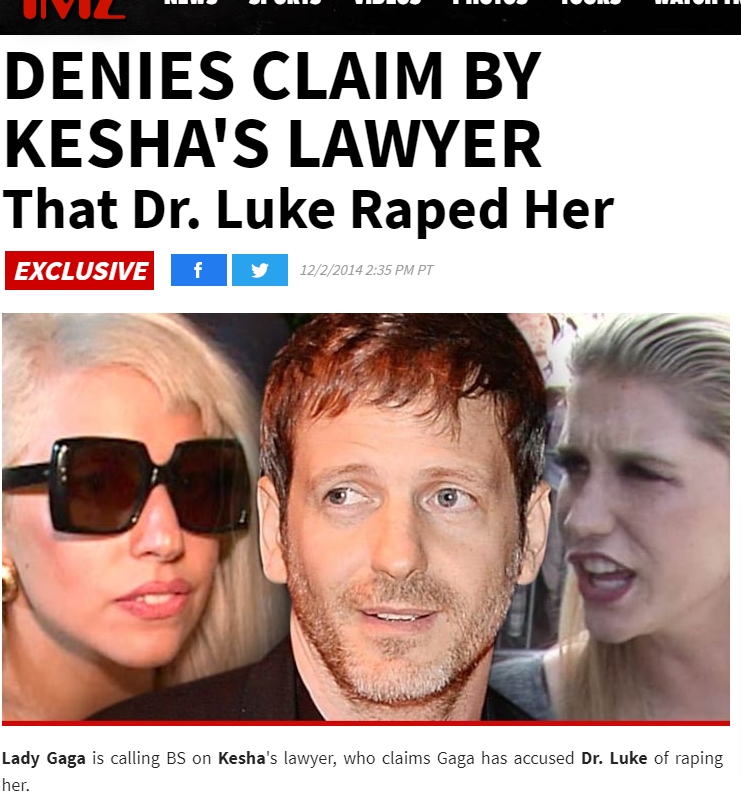 Dr. Luke's rep told Us Weekly that Geragos' "statement is completely false and defamatory. Luke met Lady Gaga twice for less than half an hour total in those two meetings combined. He has never been alone with her and never touched her. Neither meeting was in that time frame reported."
So Dr. Luke is not a suspect (to get those rumors out of the way), and that leaves whoever raped Lady Gaga is still free,
Since 2014, the 35-year-old award-winning singer has opened up about the traumatic experience of her rape in several interviews stating that it repeatedly happened by a record producer who impregnated her in a recording studio. Still, she says the man said that they were dating and she even saw him once in a store after the attacks.
For example, later in a 2019 interview with Elle Magazine, she said she was raped repeatedly at age 19. She has undergone mental and physical therapy for post-traumatic stress disorder (PTSD).
Gaga gave more details about her rape in the interview for Elle, stating she had a "psychotic break" and blames it on trauma and her illness. "I was raped when I was 19-year-old, repeatedly," she said, also bringing up her fibromyalgia diagnosis.
Gaga alluded to some facts about the rape case and possible perpetrator when she said, "Because I'd been being abused. I was locked away in a studio for months."
This reference to being raped repeatedly at age 19 and locked in the studio is crucial evidence, as you will find out.
"I have PTSD. I have chronic pain. Neuropathic pain trauma response is a weekly part of my life. I'm on medication; I have several doctors," she explained.
Gaga said she thought she'd never totally recover from her trauma, and she had a "psychotic break," which is essentially an episode of psychosis when a person loses touch with reality. She told Elle Magazine;
"It was one of the worst things that's ever happened to me," she said. "I didn't understand what was going on, because my whole body went numb; I fully dissociated. I was screaming, and then he calmed me down and gave me medication for when that happens—olanzapine."
During a 2020 interview with Oprah Winfrey, Lady Gaga said;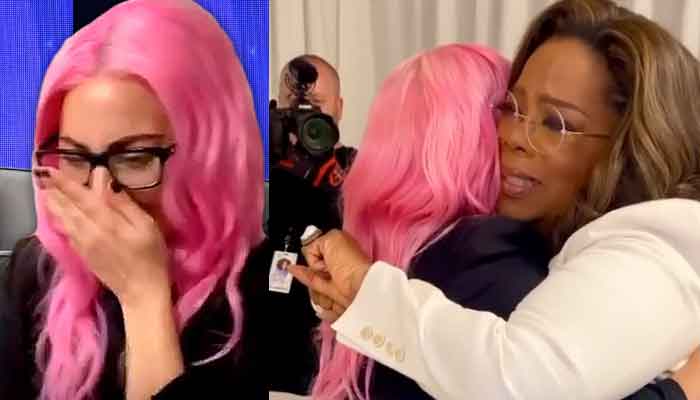 "I was 19 years old, and I was working in the business, and a producer said to me, 'Take your clothes off. And I said no. And I left, and they told me they were going to burn all of my music. And they didn't stop. They didn't stop asking me, and I just froze, and I—I don't even remember."
The singer refused to name the man, explaining she doesn't "ever want to face that person again."
Lady Gaga "initially blamed the assault on herself," she said.
"First I felt full-on pain, then I went numb," Lady Gaga said. "And then I was sick for weeks and weeks and weeks and weeks after, and I realized that it was the same pain that I felt when the person who raped me dropped me off pregnant on a corner."
"At my parents' house because I was vomiting and sick," she added. "Because I'd been being abused. I was locked away in a studio for months."
"After it happened, I'm like, 'But what did I do in my life to bring this upon myself?'" she revealed. "There was some sort of maybe religious guilt attached to it that I had somehow inspired the violence."
"Because of the way that I dress, and the way that I'm provocative as a person, I thought that I had brought it on myself in some way – that it was my fault," Lady Gaga said to Oprah.
Here is the video.
This story of Lady Gaga being raped is very interesting because to this day, she refuses to name the attacker.
For such a horrific sexual crime to happen to a high-profile star and for her to suffer to this day without naming who has caused her misery is rather peculiar. It is as if Lady Gaga is trying to protect the man and or there are specific facts about the crime that she wishes to keep secret.
Who is she protecting and or what is she hiding?
When researching the timeline of her life, it was 2006 when the 19-year-old Stefani Germanotta from New Jersey met a New York record producer, Rob Fusari, a man 20 years her senior (born in 1967/68), when her world literally changed overnight.
Fusari, a Grammy Award-winning producer whose credits include work for Beyonce, Whitney Houston, Will Smith, and Brittany Spears previously.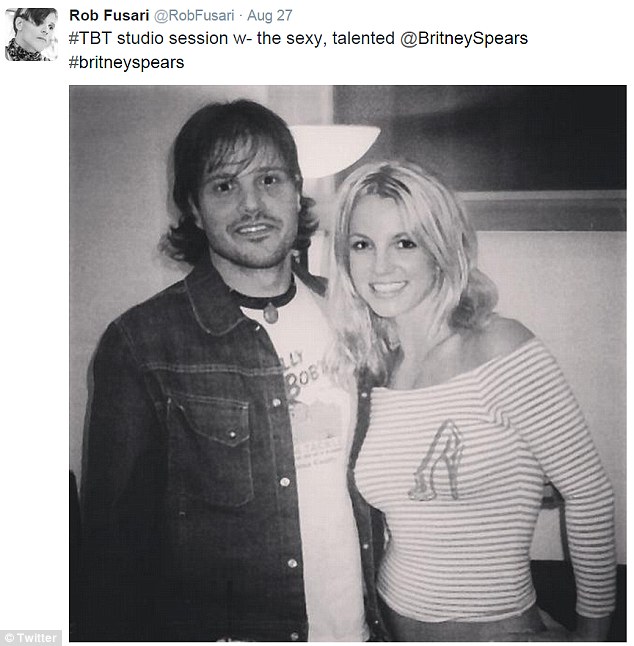 At 19 years old, you will find that she was in daily contact with Fusari who helped Lady Gaga land her first record deal, and she would visit him daily at his New Jersey Parsippany Recording Studio. She was raped by a man 20 years her senior who she knew and then locked in a studio for months. At the same time in history, she was visiting Fusari, who was 38 years old at the time on a daily basis in his studio.
These dates, timelines, his age, and the fact that he is a record producer with a studio would place him as suspect numero uno.
Here is the young woman from New York in Fusari's recording studio.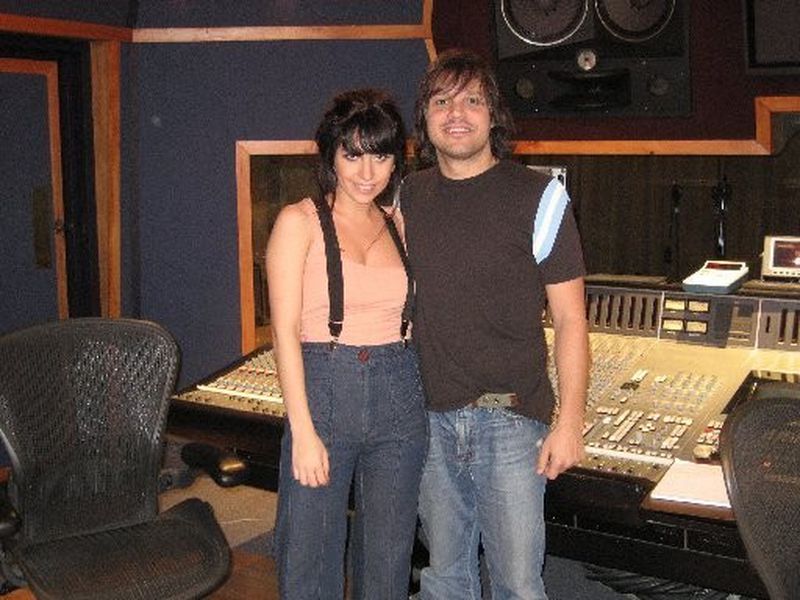 View this post on Instagram
Rob Fusari is credited with giving Stefani Germanotta her stage name Lady Gaga, and he also calls her "his project," claiming in an interview, "I made you, I created Lady Ga-Ga".
In a 2008 interview with MTV's Buzzworthy blog, Gaga credited Fusari with the origin of her stage name. "My name, Lady Gaga, comes from the first producer that I worked with, Rob Fusari," she said. "I was playing a record for him one day in the studio called 'Again Again,' which is actually a B-side for the album, it's like this super-Beatles/Queen theatrical ballad.
He said, 'God, you're so "Radio Gaga," ' and I thought that was funny. And every time I'd come into the studio he'd say, 'Gaga is here, Gaga is here! Gaga Gaga!' So it sort of stuck, and I tacked on the 'Lady' as a sort of ironic contrast to the crazy of the Gaga."
Before I continue with Fusari, it is essential to note that his recording partner at the time, Vincent Herbert was in the headlines in 2016 for abuse claims by his former wife, Tamar Braxton. Tamar says she was abused and forced to wear blonde wigs. He was born in 1973. They are now divorced.
Herbert was also accused of abuse by a band member from the all-girl band, Dream who happens to have blonde hair. I will share more on Fusari's partner, Herbert, later. But here is a little teaser. A photo of Herbert and Gaga scantily clad with a blonde hair wig.
And guess who told Lady Gaga to dye her hair blonde? Stay tuned to find out.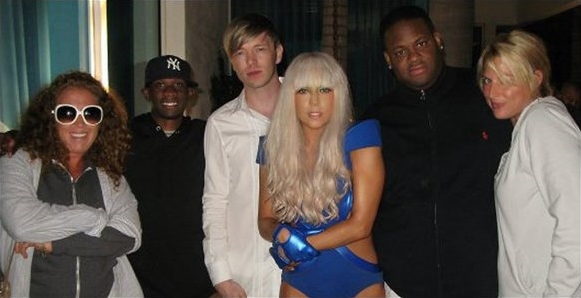 As I stated, Gaga and Fusari reportedly became lovers in 2006 when Gaga was 20, and Fusari, at 38, was nearly twice her age. This news came out in court papers at a later date and was not public at the time, as you will see.
Within seven months and after the release of her first hit album with hits such as Poker Face, which her then-boyfriend, Fusari helped produce, their personal and business relationship suddenly ended.
For helping her career, his former girlfriend, Lady Gaga cut all ties with the man and never recorded another album with him again. However, they reportedly had a great relationship, and it was Fusari who can be attributed with being the one person who helped Lady Gaga make it to the big musical leagues causing her to become a household name.
This was Fusari's payback.
So what happened to their relationship? You would think that something drastic had to of happened, and was it the rape and record contract that caused her to never deal with Rob Fusari again. How about the fact that she or he never went public about their relationship?
Let's look at the timelines, quotes, and facts that help paint a clearer picture of the alleged repeated rapes that Gaga reveals in her interviews. Remember that Lady Gaga has gone on record stating that "she was repeatedly raped in a studio" and told Howard Stern it was a man who was 20 years older than her.
I know I'm rehashing some of the same facts but it is as if she is giving us and police clues to exactly who this man is.
When you compare the stories and timelines of Lady Gaga's claims with Rob Fusari, you began to see a common thread and a connection that link the two together at this same time, and there is a reason that she is hiding his identity so now let's take a look at Fusari and what he has said and done over the years since "producing and dating Lady Gaga."
Fusari tells Billboard Magize in a 2010 interview about how Lady Gaga took the bus from New York to his New Jersey studio daily, and he created a company with her and her father called "Team Love Child."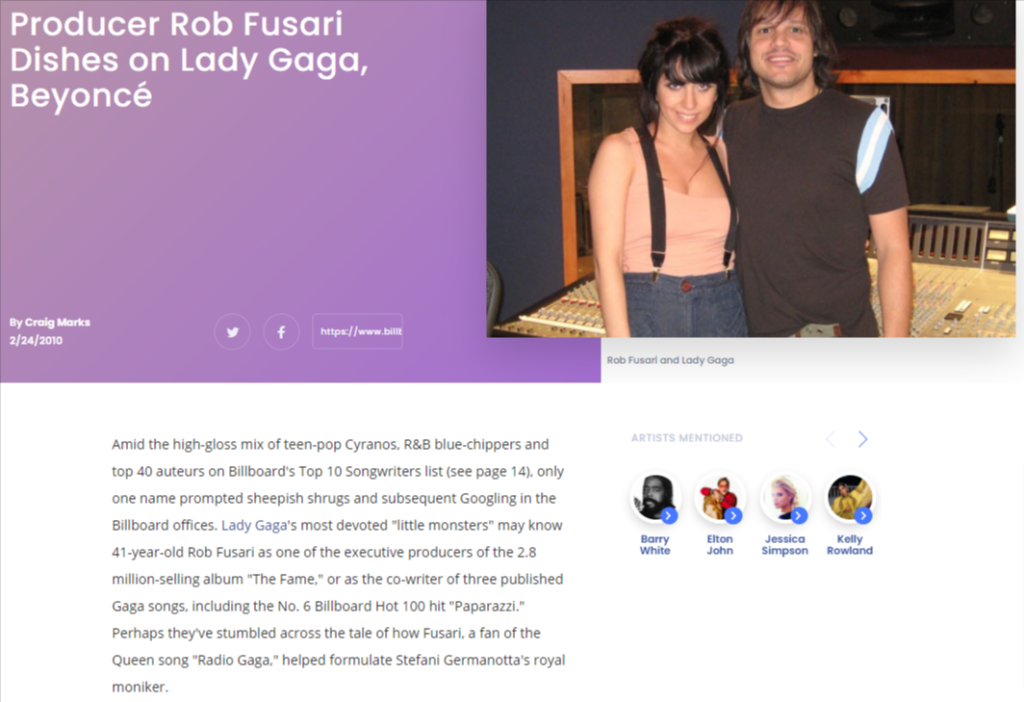 Fusari had said to Billboard;
"During the next year, absent only Sundays and holidays, Germanotta rode the bus daily from New York to Fusari's Jersey studio, where the two worked shoulder to shoulder building the songs, sound and even persona of the artist soon to be known ubiquitously as Lady Gaga. Fusari escorted Germanotta to sushi dinners with Columbia, conference-room try-outs at Island Def Jam and to her eventual label home at Interscope.
As she struggled to pinpoint her musical identity and suffered bruising business setbacks, Germanotta's ambition, Fusari says, never wavered. "It's beyond scary," he adds admiringly. "It's actually messed me up, because now, with everyone else I work with, if I don't see that drive, I'm thrown off."
And yet, despite the acclaim and handsome royalty checks, Fusari seems genuinely conflicted about his experience as a Dr. Frankenstein to Gaga's Fame Monster. "It's made me harder," he says, his tone more sad than bitter. When Gaga took off, "I saw the vultures come out."
Naturally, Fusari has been deluged by bottle-blondes claiming to be "the next Gaga": "I get an e-mail, call or text every day. People find my phone number and sing to me on the phone." As for the original, though, Fusari says that he has not been invited to work on her next album.
Like a guidette. Totally "Jersey Shore." [laughs] Anyway, we ride back to the studio, and I'm plotting how to cut this short. I can't picture going to a label with this girl. We arrive, and she sits down at the piano and starts playing a song about Hollywood she'd written.
And I tell you, in 20 seconds, I'm like, "Oh, my God. If I can handle my business, this girl is going to change my life." I said, "You've got to come up here next week, and we have to start working." And she did. She took the bus to my studio every day for a year straight, no exaggeration.
What kind of deal did you and Stefani strike?
FUSARI – We started a company together called Team Love Child. It's not a production deal. She was never signed to me. It's me, her and her dad in this company. Everyone was on the same plane. And I'm all for that.
Are you and Stefani still friends?
FUSARI – I don't know. I feel like I may have been demoted to . . . what would be one level beneath friend?
Professional acquaintance?
FUSARI – Yeah, there you go. That's it.
What do you think happened?
I don't know. I can't figure it out, and I won't ask. I don't know if I said something or did something. I don't know.
Will you be involved in her next record?
FUSARI – I don't believe so.
Well, either way, you must be glad to be out of your mom's house.
Definitely. I feel a huge sense of accomplishment that we built something together, and I'm extremely happy for her. We spoke briefly after the Grammys, and I congratulated her and she congratulated me.
Who are you working with now?
FUSARI – Without saying too much, because I'm still doing the paperwork, he's a 14-year-old kid from the coast. Writes, plays guitar, produces. Oh, God, he's good.
As you can quickly see, there is much more here to their story than meets the eye and then is being told publicly by Gaga and Fusari.
In 2010, Fusari filed a $30.5 million suit against Lady Gaga in a New York Court, claiming he had been denied his 20 percent of royalties on songs like "Paparazzi" and "Beautiful, Dirty, Rich."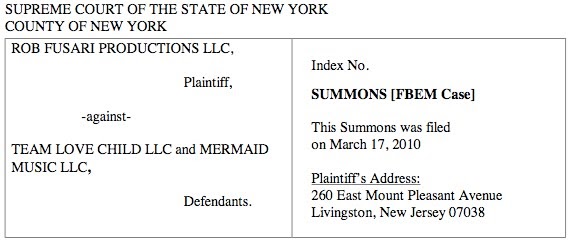 The case Rob Fusari Productions v. Team Love Child and Mermaid was filed on March 17, 2010, and can be found on the website of the New York State Supreme Court under number 650179-2010.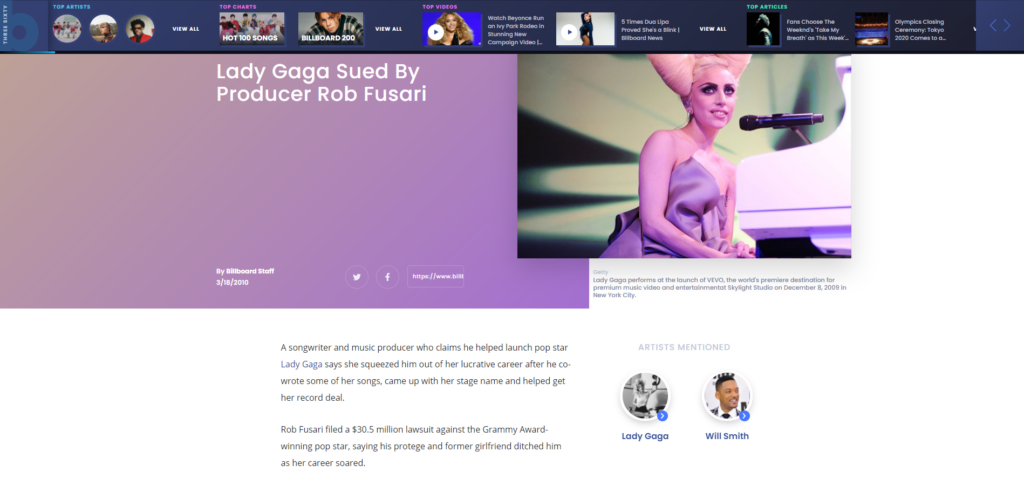 The court papers reveal how Fusari and Lady Gaga became intimate.
"Starland knew that Fusari had been searching for months for a dynamic female rock-n-roller with garage band chops to front an all-girl version of the Strokes," the suit reads. "Starland was blown away by Germanotta's performance and immediately called Fusari and told him she had found him his girl."
The document says that the aspiring singer took a bus the next day to Fusari's 150 Studios in Parsippany, New Jersey, hiking the last quarter-mile.
"Fusari was expecting someone a little more grunge-rocker than the young Italian girl 'guidette' that arrived at his doorstep and was worried that he had made a mistake," the document continues. "Fusari then asked her to play one of her songs on the studio piano and within seconds realized that Germanotta had star potential. The trick would be coaxing it out of her.
Before long, Germanotta was riding the bus to Jersey every day to work with Fusari at his studio.
Fusari thought Germanotta's songs were brilliant but lacked commercial appeal. He pushed her to explore different musical genres. Over the course of the next several months, Germanotta commuted from New York to Jersey seven days a week, radically reshaping her approach. They put their focus on writing music and finding a sound for her."
"Working intensely in such close emotional quarters over a sustained period nurtured Fusari and Germanotta's relationship to a new, personal and romantic level, and the two began to spend all of their time together as a couple." She was sleeping at his place, he was getting to know her family and siblings. He began shopping a CD they produced to record companies. Around May 2006, they made their business partnership official.
Though Fusari wanted her to sign a standard production deal with him, her father, Joe Germanotta, who had already formed Mermaid Music Inc. with his daughter, said no. "Instead, Joe Germanotta suggested a compromise whereby Mermaid and Fusari could share control of the exploitation of his daughter and her sound recordings through a third company…. Not wanting to create any friction with the family of his girlfriend, Fusari agreed to this arrangement."
However, the couple was now constantly bickering, Fusari claiming that Germanotta became more and more verbally abusive towards Fusari. Fusari wanted to return their relationship to a purely professional level, so in January 2007, he ended their romantic involvement.
Herbert liked what he heard and brought the artist to Jimmy Iovine, Chairman of Interscope Records, Inc. ("Interscope"). During the next few months, Herbert lobbied Fusari to bring Germanotta into the Interscope fold. At the same time, Fusari found that he was being frozen out of the actual negotiations that were taking place between TLC and Interscope. Fusari kept demanding that he remain directly involved in any new distribution agreement.
After a while, Germanotta and her father stopped taking his telephone calls or otherwise responding to Fusari's texts and emails.
In response, Lady Gaga filed a countersuit. However, Fusari and Gaga dropped their lawsuits against each other in a private agreement in 2010.
Rob Fusari was introduced to Gaga by a friend, Wendy Starland, who later sued Fusari in 2015, claiming she was owed 50 percent of his earnings from Gaga's music in exchange for discovering the singer.
Fusari lost a suit filed against him by Wendy Starland, claiming he cheated her out of money. A federal court ordered Fusari to pay Starland $7.3 million. Before losing the court case, as if he knew his fate, Fusari withdrew millions of dollars from his bank accounts, and as of March 31, 2015, he had less than $436,000. He entered a rehab facility, NJ Advance Media reported.
This was the time when it was officially revealed that Gaga had a relationship with Fusari. "They had a personal relationship and it went sour," says the court.
Gaga accused him of intimidating her into signing a deal that wasn't ideal.  In the court deposition, Gaga said, "I believe that Rob led Wendy to believe that he would include her in the development of my career but had no intention of doing so."
 In her deposition, Gaga said her first deal with Fusari, 45, had him taking half of all her future earnings. She called the contract 'very one-sided and very daunting and concerting for a young female artist.'
'I really wanted to move forward with my music career,' she added. 'But I remember I was advised very early that the terms of the agreement were not normal. She said she was offered other deals, but Fusari used '"used many inappropriate words" via text message in threatening her and added, "He dangled the paperwork in front of me until he got me, got me signed."
This is just what information is available to the public and there is allegedly much more testimony that has been withheld.
At the time, Lady Gaga had claimed that the lawsuit contains information that is "sensitive, private, and personal" and believes if it went public, it would "inflict significant personal and professional harm upon" her, according to the website TMZ.com. Gaga also stated that she and Rob are legally bound to keep the information private as part of a previous non-disparagement agreement between them.
Meaning, there were facts and things that Lady Gaga did not want to be released to the world, so most of the court papers that have been released blackout most of her incendiary testimony.
What was she and Fusari worried about coming out in the court battle?
Some critics would call Fusari Dr. Frankenstein to Gaga's Fame Monster. A man openly bisexual or gay now dresses in drag and is active in the LGBTQ community. This does not prove anything but that Fusari is into a sexual type of behavior and lifestyle that would not be considered normal and on the fringe.
Fusari created "The World of Cary Nokey" with his alter ego, "8" in the NY underground scene. He is currently touring with RuPaul's Drag Race tour.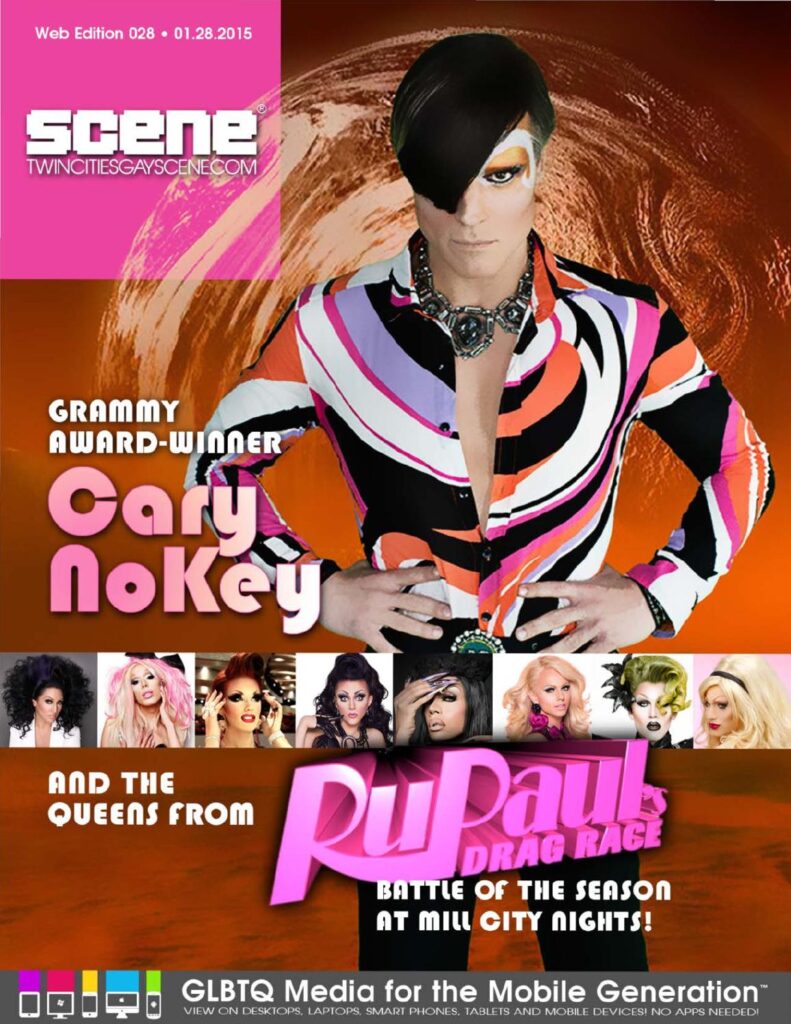 Gaystarnews.com reports; "Cary Nokey's new music video, American Dream, features trans actresses Trace Lysette, Dina Marie, Victoria Beltran, and Bailey Jay.
Fusari describes the song as saying: 'American Dream is empowering because it connects every gender, race, region, and sexuality that aims to do more than merely survive.'
'Transexuals represent the larger idea that the American dream is something within.'
SOME INFORMATION ABOUT THE SCIENCE OF RAPE
It is essential to understand that to be raped by someones does not mean that the person has to be a stranger or some random attack. For example, you can be victimized by an intimate partner such as a boyfriend or someone you are dating, like in Lady Gaga's case.
Lady Gaga has gone on record saying that she is a strong supporter of the gay community, and we now know Rob Fusari is gay. Also, research has proven that the LGBTQ community has a much higher percentage of sexual abuse and rapes occurring than found in heterosexual relationships.
This is another important fact as it relates to Lady Gaga's rape case.
Studies have shown that more sexual assaults happen in the LGBTQ community. If you are gay, bisexual, or trans, you have a much higher chance of being raped, with estimates twice as high as heterosexual relationships.
Based on data from the 2010 National Intimate Partner and Sexual Violence Survey (NISVS), the lifetime prevalence of rape, physical violence and/or stalking by an intimate partner is extremely high in the lesbian, gay and bisexual community with lesbian women (43.8%), gay men (26%), bisexual women (61.1%), and bisexual men (37.3%) reporting experiencing this violence, compared to heterosexual women (35%) and heterosexual men (29%).
Then CDC Director Dr. Tom Frieden said, "This report suggests that lesbians, gay men, and bisexuals in this country suffer a heavy toll of sexual violence and stalking committed by an intimate partner."
According to the CDC, an astounding 61 percent of bisexuals have been sexually victimized, and 21% of TGQN (transgender, genderqueer, nonconforming) college students have been sexually assaulted, compared to 18% of non-TGQN females, and 4% of non-TGQN males. 21% of college students of TGQN (transgender, genderqueer, nonconforming) have been sexually assaulted, compared to 18% of non-TGQN females, and 4% of non-TGQN males, according to RAINN (Rape, Abuse & Incest National Network) is the nation's largest anti-sexual violence organization.
According to a Centers for Disease Control and Prevention (CDC) National Intimate Partner and Sexual Violence Survey in 2010, nearly 1 in 10 women in the United States (9.4% or approximately 11.1 million) have been raped by an intimate partner in her lifetime. More than half (51.1%) of female victims of rape and three-quarters of female victims of sexual coercion in the United States reported that the perpetrator was a current or former partner.
According to RAINN (Rape, Abuse & Incest National Network), the nation's largest anti-sexual violence organization, "Sexual violence most often is perpetrated by someone a survivor knows, and this includes intimate partner relationships. Intimate partner sexual violence is not defined by gender or sexuality, but by abusive behavior."
RAINN states, "There are many different terms to refer to sexual violence that occurs within intimate partnerships, including intimate partner sexual violence, domestic violence, intimate partner rape, marital rape, and spousal rape. No matter what term is used or how the relationship is defined, it is never okay to engage in sexual activity without someone's consent."
84% of survivors who were victimized by an intimate partner experience professional or emotional issues, including moderate to severe distress, or increased problems at work or school. 79% of survivors who were victimized by a family member, close friend, or acquaintance experience professional or emotional issues, including moderate to severe distress, or increased problems at work or school.
Remember Rob Fusari's recording partner, Vincent Herbert?
An important note is that Fusari was the producing partner with Vincent Herbert, who he introduced to Stefani Germanotta, aka Lady Gaga at Interscope Records. In addition, he had his own record label called Streamline Records, working with artists such as Beyonce, Aaliyah, Destiny's Child, Mary J. Blige, K-Ci, and many more.
Herbert was married to Tamar Braxton and was introduced through her sister, Toni Braxton. They wed in 2008. In 2016, he was accused of abuse by his now ex-wife, Tamar, who claimed that he "liked women with fair skin and blonde hair and that he forced her to wear blonde wigs."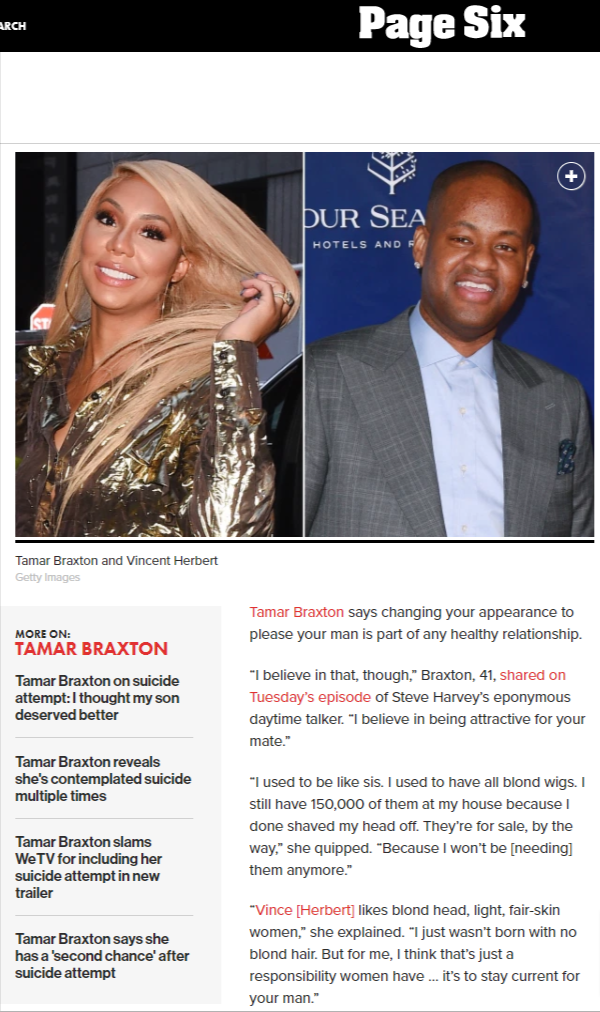 News about Vincent Herbert's marital abuse became public after Tamar Braxton got him arrested for assault and called a pregnant woman that her husband was sleeping with a whore. Vincent was arrested on Christmas Day after she says booze and jealousy led to him becoming verbally abusive.
He was arrested for spousal assault. Nonetheless, she says they have a good relationship and are committed to co-parenting. But the facts prove otherwise, as you will see.
Tamar Braxton Gets Husband Arrested for Spousal Assault, Calls Pregnant Woman a 'Whore' for Sleeping with Him https://t.co/LfBQumUsPm
— TMZ (@TMZ) December 30, 2017
According to Bossip, Tamar appeared on a panel alongside Keri Hilson and revealed how she had to change her physical appearance to please her then-husband.
"I believe in being attractive for your mate. I used to have all these blonde wigs. I still have 150 000 (wigs) at my house — they're for sale by the way, because I won't be needing them anymore." she said.
"Vince liked blonde-haired, light, fair women. I just wasn't born with no blonde hair," she continued.
While many fans suspect that the divorce was only for ratings for the couple's reality show, Tamar and Vince, People reported that Tamar poured water onto those rumors.
"I wish I could say that a lot of times it's made up, just so I can hide behind the truth," she said. "But in this situation, I absolutely have no reason to lie about my marriage or the things that are happening in my marriage for ratings. I think that's disgusting and I would never sell my soul to the devil like that."
Tamar Braxton's mother Evelyn Braxton suggested in an interview with TMZ that Vincent Herbert separated with her daughter due to domestic violence. Warning Herbert to keep his hands to himself and to, "stop before he hurt her or kill her."
TMZ interviewed Evelyn Braxton at LAX where she claimed;
"I don't really have anything to say to Vince, only one thing: keep his hands off my child, stop before he hurt her or kill her. I love Vin, but I don't want him to kill my child, as simple as that. Stop."
"I think that if a person really means what they're doing, they'll go get help or counseling, right? I think he needs to go and get counseling, I really and truly do before somebody gets killed," Evelyn Braxton concluded.
Tamar Braxton's mother also claimed in a 2017 Instagram Post that her daughter suffered for years of abuse at the hands of Vincent Herbert.
"It was definitely a volatile relationship. This has been going on for years. Everybody saw Vince as a knight and shining armor, [but] behind closed doors that's a horse of another color. I'm tired of [Tamar] being abused and misused. They say the truth shall set you free. They've been trying to hide it for years. And I have the audacity to tell the truth!"
Vincent Herbert was later accused of abusing Dream member, Melissa Schuman who happens to be blonde. Like Lady Gaga, she also suffers from PTSD as a result of abuse by a record producer.
Melissa Schuman who Tweeted in 2018 that Vincent Herbert verbally and emotionally abused her when she was 14, while recording her first record for her band Dream.
She says Herbert, an associate executive producer on the album, also forced her to lose weight. She Tweeted on Dec 30, 2017;
"This one I am not surprised by. #VincentHerbert is the reason I suffer PTSD when I'm in the recording studio. He verbally and emotionally abused me when I was 14 while recording Dream's first record. Isolated us from each other and forced me us loose weight." — MelissaSchuman (@MelissaSchuman) December 30, 2017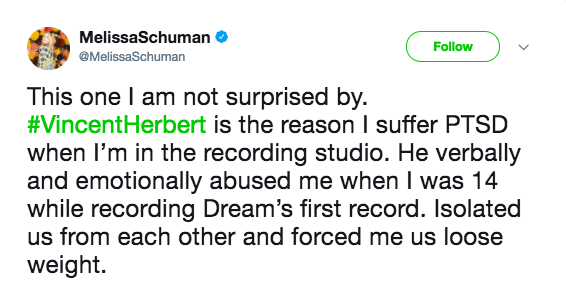 After this credible accusation by Melissa Schuman was made, Tamar Braxton attacked the young woman saying she's a "thirst bucket" who is just out for attention. Tamar claims she was not abused, but that Vincent's criticism is all part of "artist development."
She said, "Don't EVEN TRY to use our personal Family situation for attention!! All the greats had to do it, GAGA, Toni, myself … All had what was ARTIST DEVELOPMENT!!"
Tamar says, "OK … now here is what you WON'T be doing thirst bucket!! I know u saw damn puffy MTB … the industry then was like boot camp for ALL of us!"
This is an interesting comment by Tamar Braxton, who was also abused by Vincent Herbert and calls what he does as artist development and that it is all part of an industry Bootcamp. All the greats had to do it like Gaga she claims.
Let me add that Tamar Braxton also has a vested interest in her husband's image and of course his money since she receives spousal and child support from Vincent Herbert and they have a TV show together. 
Shuman has also accused Backstreet Boys member Nick Carter of rape.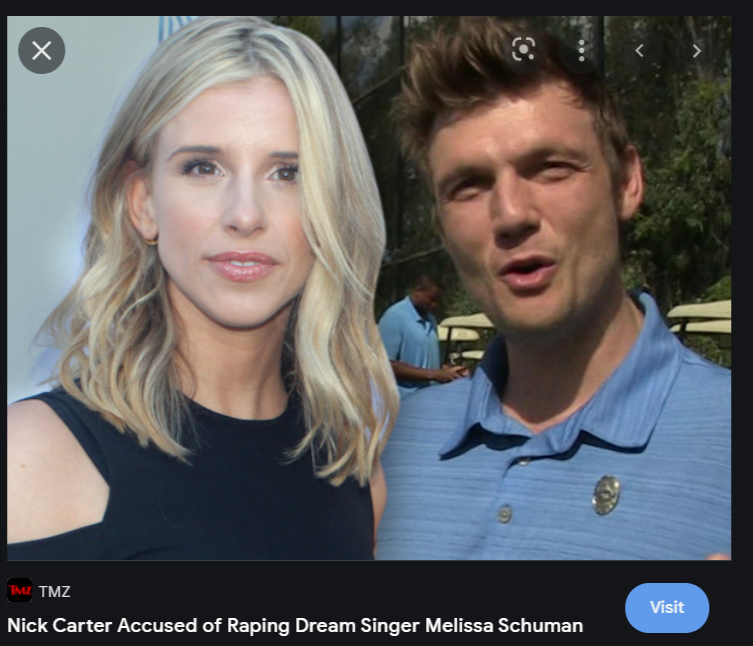 Abuse, artist development, blondes, wigs, music, money, and ex-abused wives attacking women who say they are abused. You cannot make these stories up, folks!
In case you have not guessed by now, you will find that this blonde fetish thing of Herberts now points back to Lady Gaga.
According to a 2010 New York Magazine article, this is how Herbert told Lady Gaga to dye her hair blonde.
"Gaga was worried that the label didn't think she was pretty enough to be a performer—she was recording tracks with RedOne, a Moroccan-Swedish producer, but they set her up as a songwriter for the Pussycat Dolls and Britney Spears (Spears was running around Los Angeles with a shaved head, so this wasn't a plum assignment).
Herbert even spent his own money to send her to Lollapalooza over the summer, and he started to think that her look was wrong—someone in the audience shouted out "Amy Winehouse," and that made him nervous. "I told her that she needed to dye her hair blonde, and she did it right away," says Herbert. "God bless that girl, she really does listen."
There are several pictures online of Herbert Vincent with Lady Gaga who is seen for the first time that year with blond hair at around the time of the recording of Poker Face. Here is the obese Herbert bear hugging the young Gaga in a recording studio.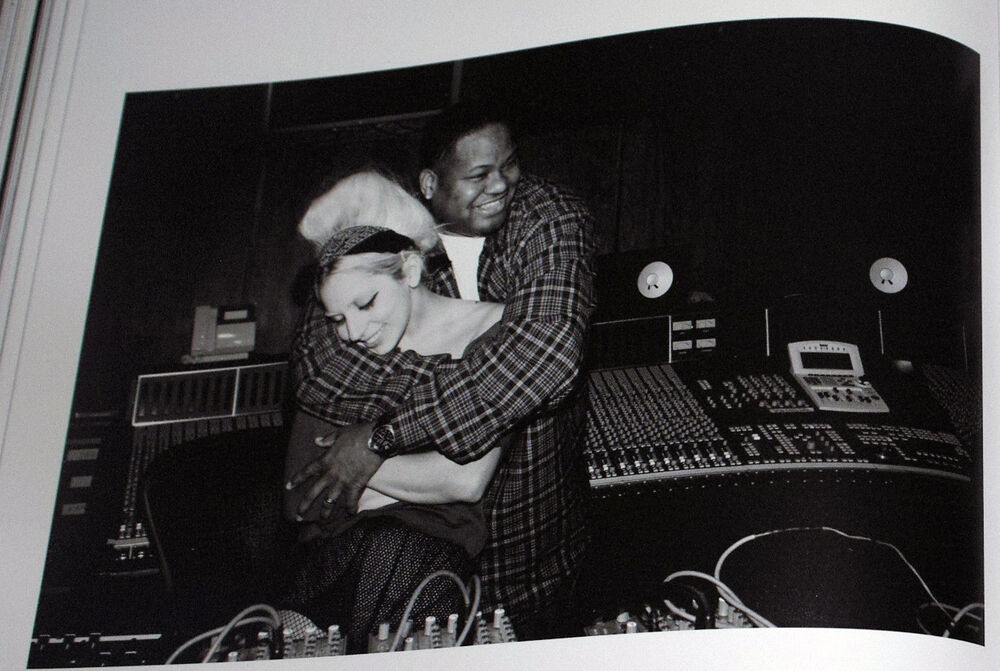 In later interviews, Gaga stated that Herbert was the one who discovered her, not Fusari and he was the executive producer on four of Lady Gaga's albums.
As you can see, Stefani suddenly goes from being an all-natural, dark-haired, good-looking traditional Italian girl from Jersey.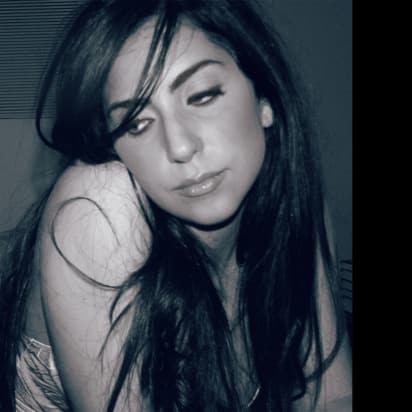 The young impressionable Stefani Germanotta morphs into new blonde hair and her Lady Gaga persona in 2010 after meeting Herbert Vincent and Rob Fusari.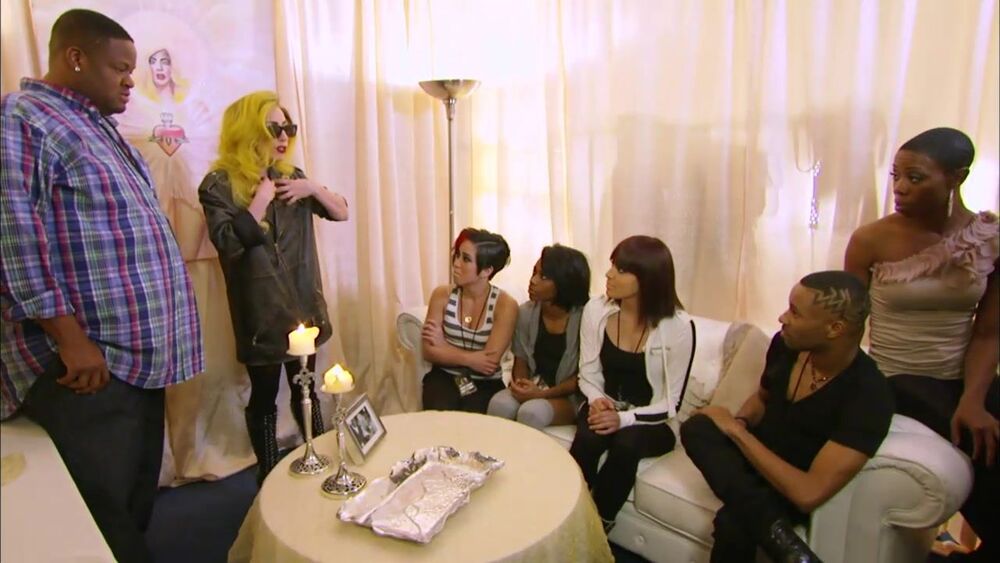 Their little project who happens to now be a damaged soul crying for help.
Is this a coincidence or part of the mind control and sexual abuse Stefani Germonatta suffered from?
None of the facts that I presented here proves without a reasonable doubt that Rob Fusari was the man who raped Lady Gaga when she was 19. But they do demonstrate many commonalities and links that cannot be denied. 
Let's quickly go over those links again.
Fusari did date Lady Gaga when she was 19, and he was 38 and 20 years older. This is a fact.
Fusari also had a recording studio, and Lady Gaga said it happened in a recording studio. So this is also a fact.
In interviews about the rape, Lady Gaga expressed how the rapist used her record deal and contract to assault her so she would comply sexually.
Court papers claim that Fusari used 'many inappropriate words to threaten her at the time of her record deal and as Lady Gaga stated, 'He dangled the paperwork in front of me until he got me signed.'
We also know that Fusari did not treat other people too well. 
In fact, from media reports, court records, and Gaga's testimony, Fusari is a terrible person and ruthless businessman who will take advantage of whoever he needs to in order to make his millions of dollars. Millions of dollars from what media and court documents prove that Fusari is willing to do almost whatever it takes to protect.
Including his project – Lady Gaga.
In normal human relationships and even business arrangements, when someone like Fusari is a boyfriend that you have sex with and helps you succeed in life to become rich in the process, you usually do not cut all ties once you become famous.
Well, unless you find out that friend was not really your friend or had your best interests at heart like it appears Lady Gaga had discovered after only seven months. Possibly, her memory and morals returned, proving that the record producer was really was not your boyfriend and that was not sex – he had raped you…
Then you add in all this weird stuff and abuse allegations about Fusari's partner, Vincent Herbert controlling his ex-wife making her wear blonde wigs into the mix.
Stefani Germanotta was just another soul sacrificed on the blood-stained altars of the extremely evil and scummy world of the record business. But that's show business you might say!
Although it may appear she was a willing victim, it does not mean that people can use sex, coercion, and verbal threats to solidify a contract.
In my opinion, that all sounds pretty damning for Rob Fusari.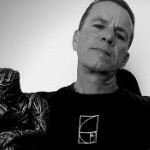 Moe is the founder of GnosticWarrior.com. He is a father, husband, author, martial arts black belt, and an expert in Gnosticism, the occult, and esotericism.