A UK man "butchered" two sisters to death who were celebrating a birthday in a London Park after making a blood pact with a demon to "sacrifice women" in return for winning the lottery. On July 6, Danyal Hussein, the demon-obsessed teenager who made a pact with King Lucifuge was convicted of murdering the women in cold blood.
According to ABC News, prosecutors said Hussein who did not know the victims, had pledged to kill six women every six months in the belief he would win the Mega Millions Super Jackpot lottery.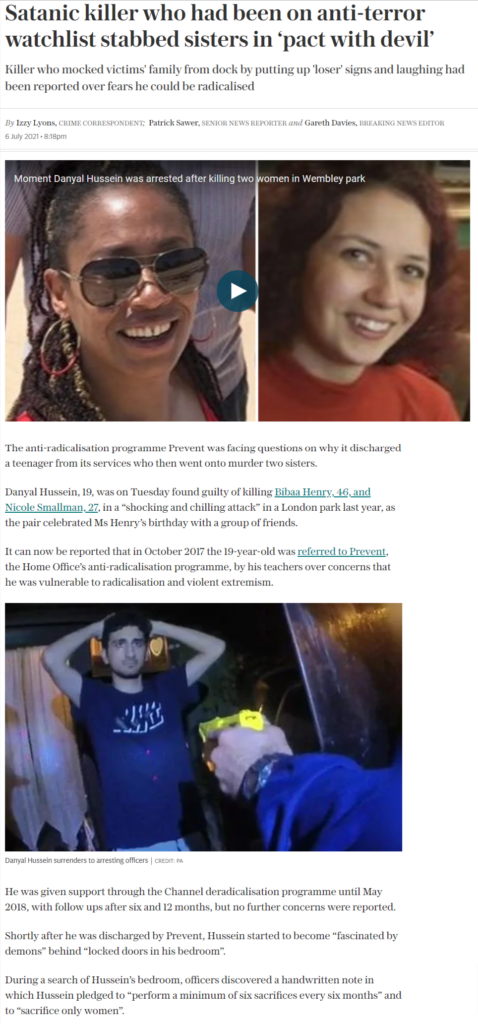 "Police found a blood pact, along with various satanic symbols, within his bedroom agreeing that he would sacrifice six women every six months in return for winning a lottery jackpot and securing the love of a girl he had attended school with," according to My London News.
It was a motive Detective Chief Inspector Simon Harding said that the Metropolitan Police "had never seen in any murder case before".
What drove this teenager, who had no previous convictions, from being a "middle of the road" student to willingly become part of a satanic cult and want to kill innocent women?
When detectives searched his house, they found his contract and lottery tickets. There were also satanic symbols and a handwritten book of spells, including ones to make women find him attractive, police said.
Police said the suspect Hussein was obsessed with demons, spells, and demonic sigils like these.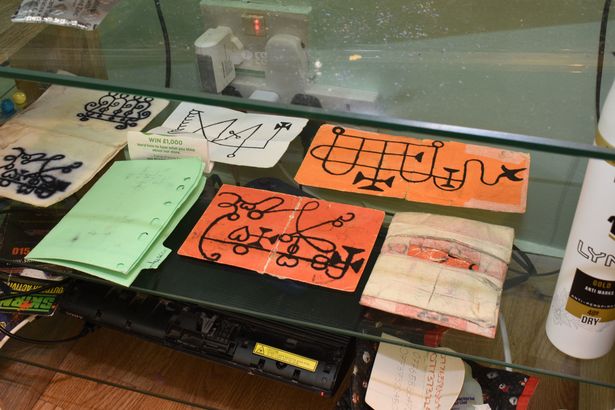 He also signed a pact in his blood with a mythical figure known as King Lucifuge. Here is a copy of the letter.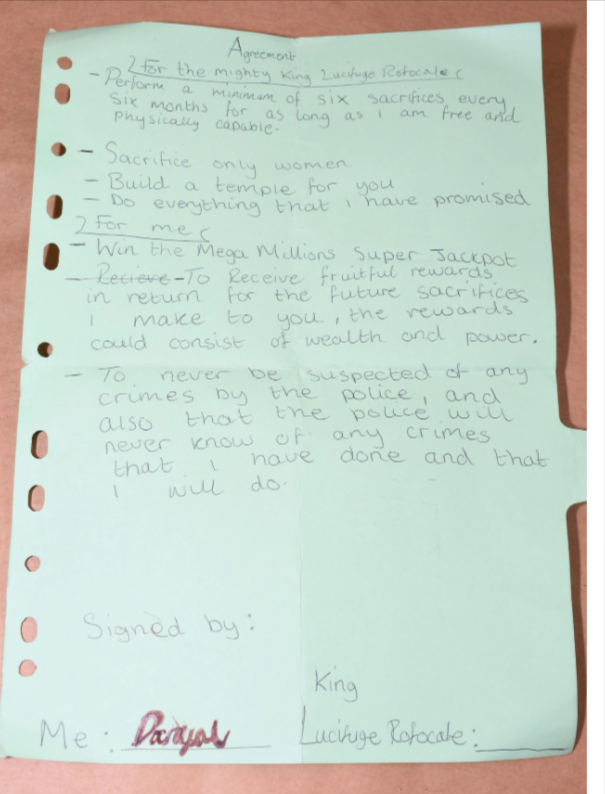 The Satanic killer was traced through DNA after cutting himself as he fatally stabbed the sisters, Bibaa Henry, 46, and Nicole Smallman, 27, at Fryent Country Park in June 2020.
Hussein, who told police he suffered from Asperger's syndrome and memory problems. He also had been diagnosed with autism.
To compound the victims' suffering, two demonic police officers who were investigating this horrible crime were charged with misconduct in public office for taking "inappropriate" photographs at the murder scene and sharing them on WhatsApp.
Yes, the police are people too and they can act demonic as well.
Hussein denied involvement throughout the trial, claiming it was an elaborate Satanic conspiracy, but the London Jury found him guilty of the murders.
He will be sentenced on Sept 22.
GNOSTIC WARRIOR OPINION
So, how does a skinny teenager with mental problems get the crazy idea that he can make pacts with demons such as Lucifuge? I mean, where do they learn these evil ideas to make demonic pacts in their own blood that lead people to murder?
You do not have to look far to find the Satanic Perp-a-Traitors.
A quick search online leads you to several self-professed Satanists and Black Magicians who are disseminating this material online for money through their websites and books. For example, on Amazon, you will find a book called, "LUCIFUGE: The Lord of Pacts (The Nine Demonic Gatekeepers Saga) by E.A. Koetting, Michael Ford, Edgar Kerval, Bill Duvendack, Orlee Stewart, & 5 more authors.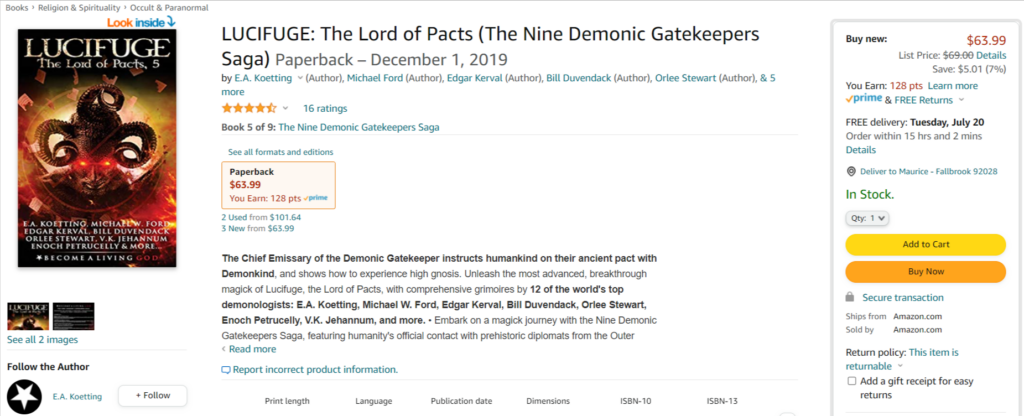 The authors claim that Lucifage is "the Chief Emissary of the Demonic Gatekeeper instructs humankind on their ancient pact with Demonkind, and shows how to experience high gnosis." They say that you can "Unleash the most advanced, breakthrough magick of Lucifuge, the Lord of Pacts, with comprehensive grimoires by 12 of the world's top demonologists."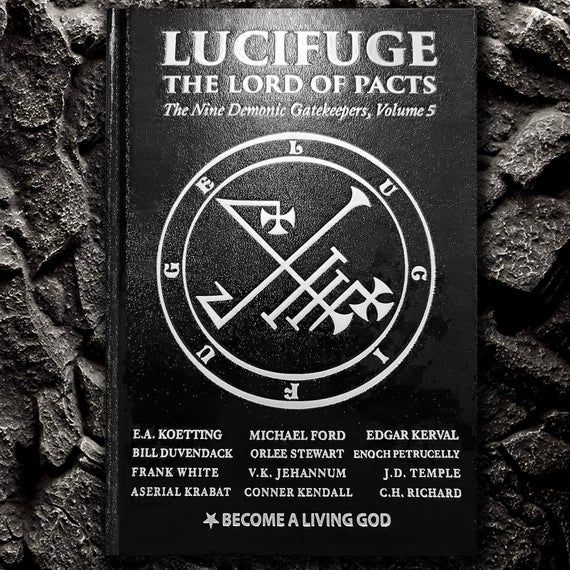 I contend that Hussein and other people learn these bad ideas from Satanists like E.A. Koetting. Just look at and listen to his claims to people who watch his videos on what he can help you learn to astral travel, find love, raise your kundalini and make pacts with demons.
He is the main person I found teaching online about making pacts with this so-called Lucifage as the guardian of the black flame.
Koetting has a large following online through Youtube with 86,800 subscribers and some of these same said people with mental problems like Hussein can purchase his books to learn how to perform so-called pacts using these ideas and sigils with these demons. Because some people have mental problems, they do not have true Gnosis or reason to discern where they get their knowledge on the occult and esoteric subjects.
People such as Koetting use this naiveness and his good looks to lure vulnerable and often, mentally handicapped young men and women into his mini online "Cult of Demons."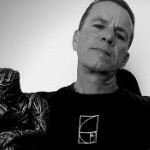 Moe is the founder of GnosticWarrior.com. He is a father, husband, author, martial arts black belt, and an expert in Gnosticism, the occult, and esotericism.