A world-renowned fashion company founded by gay Spanish fashion designer Cristóbal Balenciaga Eizaguirre (1895-1972) is embroiled in controversy for depicting two young girls holding teddy bears in sexual bondage outfits for its latest kidswear collection.
One of the photos shows a child standing atop a bed holding a teddy bear dressed in a fishnet top, with a leather collar, and wrist and ankle restraints and on the table sits a couple of chains about the size of a child's neck and a dog leash.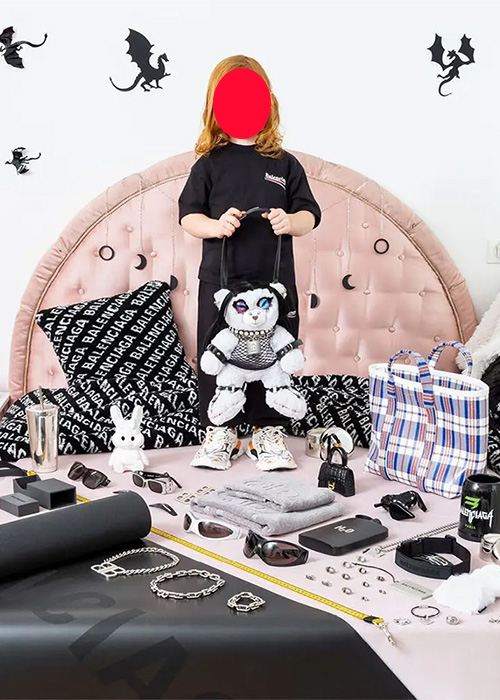 Another photo shows a child standing atop a bed holding a purple plush teddy bear dressed in sexual bondage with a muzzle on its mouth in front of a table with various empty wine and champagne glasses,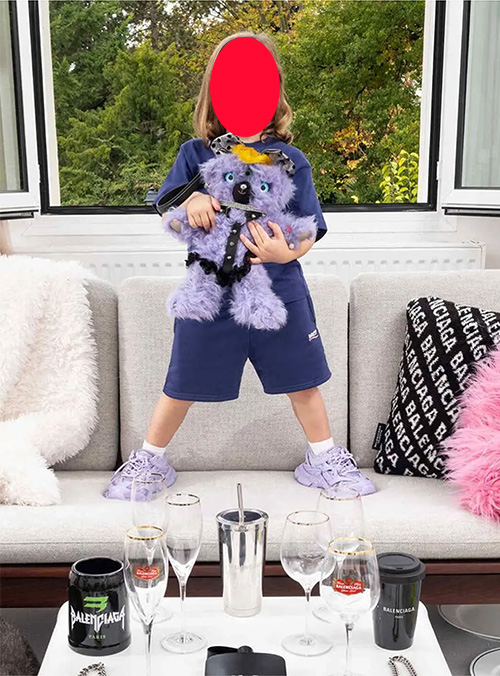 And on the table in plain view yet hidden from sight is a court document about an important U.S. Federal Court "child porn case" that set precedent for the laws of child pornography in advertising.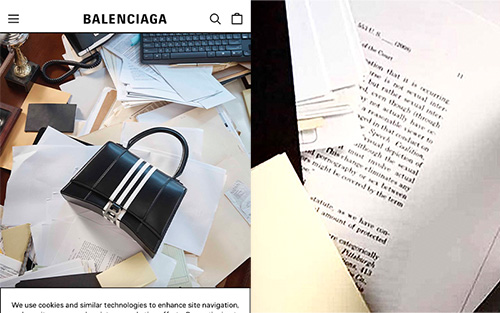 The document contains an excerpt from the United States Supreme Court's case opinion, United States v. Williams that covers federal child pornography law criminalizing "advertising, promoting, presenting or distributing child pornography even if the underlying material does not constitute child pornography.
According to the University of Tenessessee,
"In United States v. Williams, 553 U.S. ____ (2008), the Supreme Court upheld part of a federal child pornography law known as the Prosecutorial Remedies and Other Tools to end the Exploitation of Children Today Act of 2003, better known as the PROTECT Act, finding it was not in violation of the First Amendment right to free speech or expression.
The law held that virtual pornography did not involve the same harms to children as pornography involving real children. This distinguished it from New York v. Ferber (1982), in which the Court had justified a child pornography exception to the First Amendment's broad free speech protections based on actual harm to children."
Is this all a coincidence?
THE MORAL OUTRAGE FROM CONSERVATIVE MEDIA AND THE PUBLIC
Everyone from Fox News' Tucker Carlson to the Daily Wire's Candace Owens and hundreds of Twitter users had reported on the incident calling their advertisements "Sayanic," "horrific," "absolutely demonic," "sickening," and a glamorization of "pedophilia, child exploitation and female abuse."
A day later after the outrage, Balenciaga shut down its Twitter account as the new CEO, Elon Musk has already begun to seriously crack down on child exploitation on the social media app.
Tucker Carlson was visibly upset as he ranted eloquently about the sickening news calling it a dangerous cult with the sexual exploitation of children and blaming the media for ignoring Balenciaga child 'bondage' ad controversy. Here is the video clip on 'Tucker Carlson Tonight.'
World champion kickboxer and internet entrepreneur, Andrew Tate calls the Western media establishment for what they are, SATANISTS!
The Daily Wire's, Candace Owens had went on Instagram demanding that Kim Kardashian condemn Balenciaga for exploiting children and challenged her to keep the same energy she used to publicly 'stand with her friends in the Jewish community', for standing with children sex traffic victims.
In a previous response to the Rаy J sex tаpe, Cаndаce cаlls Kim Kаrdаshiаn а "prostitute" and her mother Kris Jenner а "pimp."
In the video, Candace Owens talks about the "pedophile ring in Hollywood" and big brands like Balenciaga "displaying child pornography". She talks about the Ashcroft versus the Freedom of Speech Coalition
Candice said, "OK, then they shot another photo from the campaign and it's the same exact campaign. And there is a Balenciaga purse. And under the purse there's a lot of papers. When you zoom in to the papers, what you will see is it is a Supreme Court decision. The Supreme Court decision was Ashcroft versus the Freedom of Speech Coalition." "The Freedom Coalition for Speech. Right.
That was a decision that the Supreme Court struck down certain aspects of child, virtual child pornography. Okay?
So essentially, they are putting these papers that were the Supreme Court's decision to struck down certain laws pertaining to virtual child pornography under the purse so there is no confusion as to where they stand," she said.
Candace Owens continued;
"They are happy that the Supreme Court decided to get rid of virtual child pornography laws which now allows them to have these children that are holding these bears that are in BDSM poses. I am so disgusted. I am angry. I want to be shrinking. Like I said, I'm trying to stay calm in this," she said.
You can watch the Candace Owen video on Instagram here:
View this post on Instagram
Twitter users ripped into Balenciaga,
"Why would a multi-million-dollar fashion company like Balenciaga run ads for their "Object Line" using children holding teddy bears in bondage costumes? Why would they place a copy of a court document on child pornography in the ad? Who are targeting and what are they promoting?" one user questioned.
"Another photos from Balenciagas new ad campaign. A model with makeup to look like she has Black eyes. Now now only is Balenciaga glamourising child abuse it's also glamourizing violence against women!" one Twitter user tweeted, posting a photo of a Balenciaga model with a black eye and damaged face who is holding one of the fashion house's teddy bears.
Another user speculated that this was the reason the brand left Twitter: "I thought people were trolling, but nope. It's real. Maybe this is why Balenciaga left Twitter. They don't want to be held accountable."
"This trend of pushing boundaries using sex kinks to look edgy is filtering from advertising to adults, to now children. It isn't edgy or disruptive. [It's] ethically wrong," one user said.
Balenciaga apologized on Instagram Stories by stating;
"Our plush bear bags should not have been featured with children in its campaign. We have immediately removed the campaign from all platforms. The brand claimed to take this matter very seriously and is taking legal action against the parties responsible for creating the set and including unapproved items for its Spring 2023 campaign photoshoot.
"We strongly condemn abuse of children in any form. We stand for children's safety and well-being," Balenciaga added.
Why would Balenciaga be ignorant of or create marketing implying child pornography?
Since day one, the Spanish clothing brand has been mainly operated by homosexual men. While this does not mean in itself that they are guilty of exploiting children, it does raise suspicion on their motives for using young children in sexually explicit clothing and bondage for advertising and then calling it art.
There are not many sane straight people who would think about dressing children as young as 3 years old in sexual bondage outfits to sell clothing.
A day after the controversy broke out, Balenciaga appeared to be laying the blame on Italian photographer Gabriele Galimberti for their controversial campaign. Meaning that Galimberti was the only one responsible and had complete creative control over the brand's marketing .
The notion that Balenciaga were ignorant to the fact that their hired photographer, Galimberti was solely responsible for a kiddie BDSM photo shoot that also featured a document relating to child porn is utterly absurd.
But, it is worth noting that Gabriele Galimberti is a travel photographer who coincidentally likes to take pictures of young children around the world for his projects like a set of photos called Toy Stories. His work has been published in many popular magazines such as National Geographic.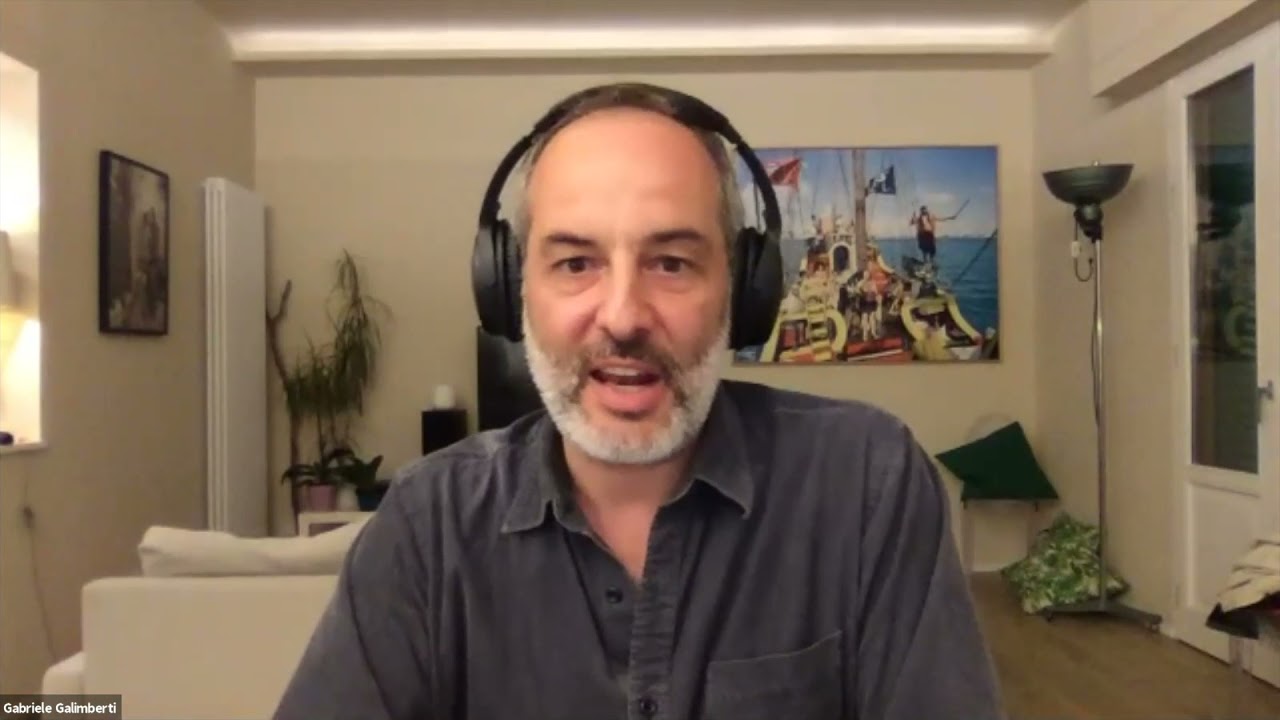 Many of the portraits were taken in the kids' rooms.
The clothing brand's creative director is a homosexual man named, Demna Gvasalia and he is also the co-founder of Vetements. He was just voted one of Time's 100 most influential people in the world.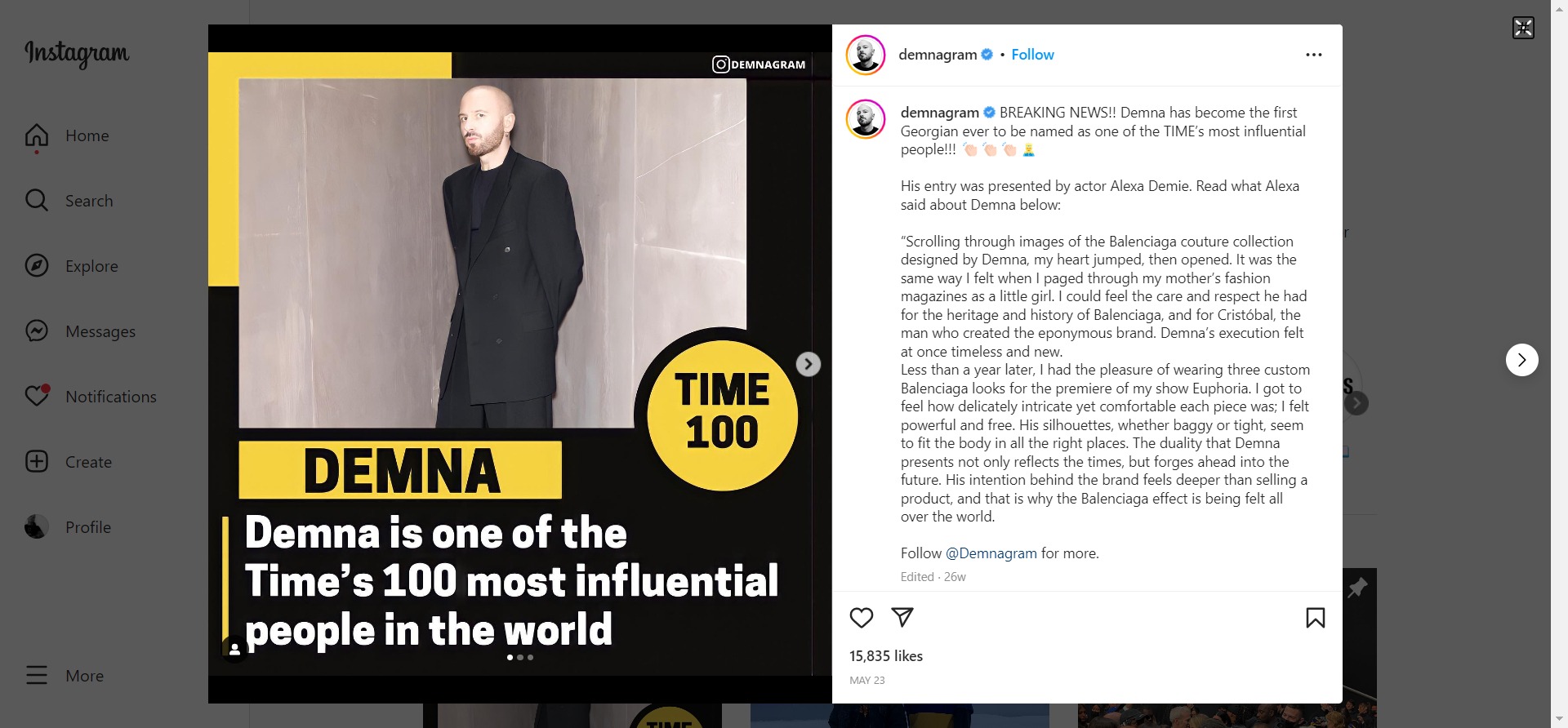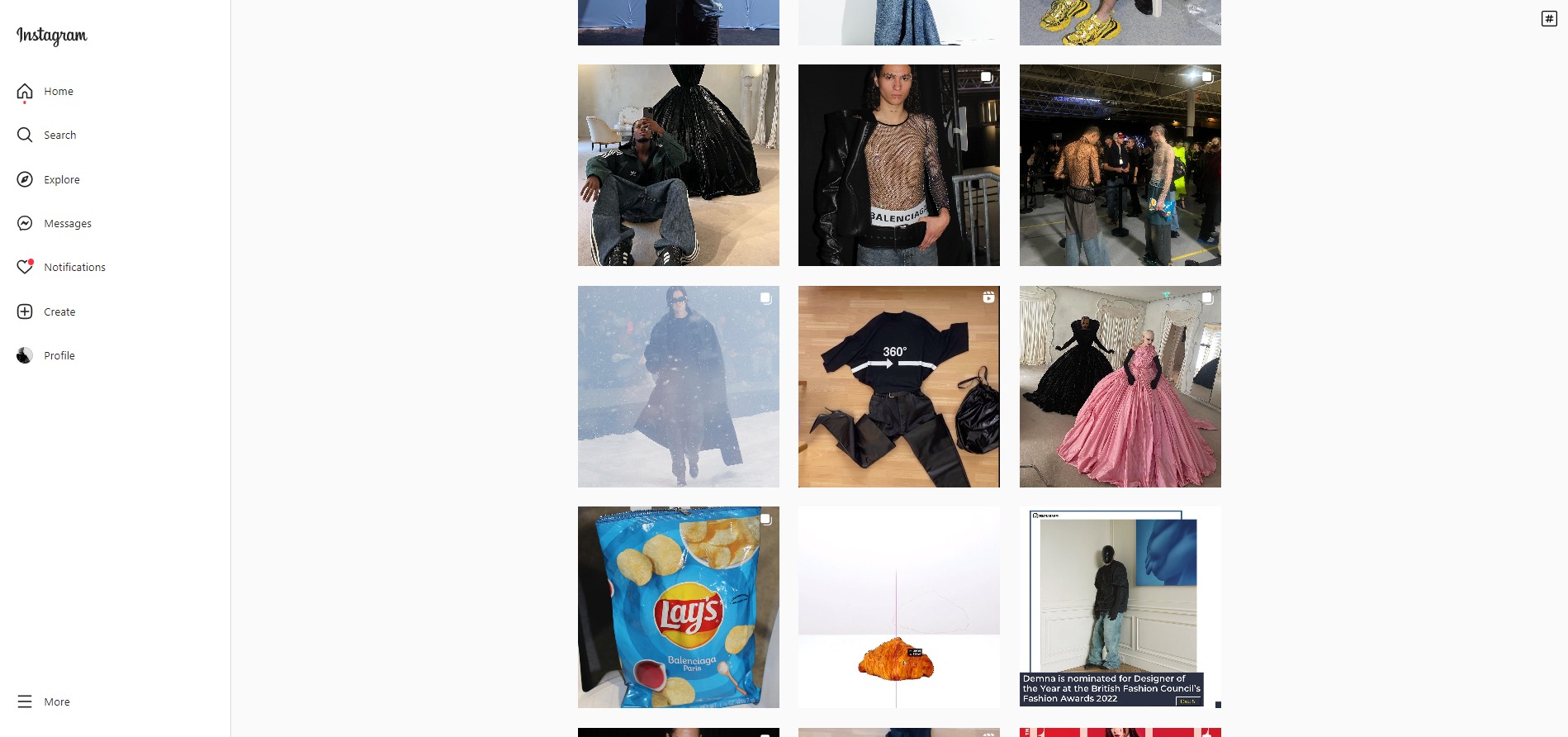 Two days after the scandal, Kim Kardashian completely ignored the outrage by going on Instagram to share a photo of herself wearing a new Balenciaga outfit and Adidas apparel on November 21, 2022 as she exited her $600K custom Lamborghini.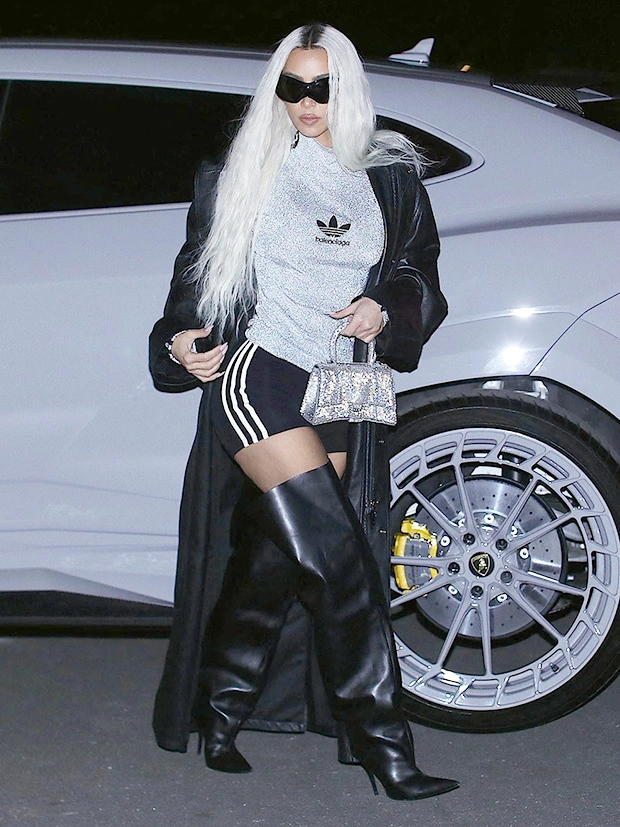 Then some armchair investigative journalists found some more disturbing information on the Balenciaga website. A photo with a book from an artist named, Michael Borremans who likes paintings naked toddlers playing with severed human body parts covered in blood calling it art.
This is the artist whose book was in the Balenciaga ad campaign.
There's a book in one of Balenciaga's photos that's written by Michaël Borremans, an artist who created "Fire from the Sun," which is a series of paintings depicting naked toddlers. pic.twitter.com/77ERZMyZPL

— nikki (@ateenyalien) November 23, 2022
Balenciaga APOLOGY IS BS!!!

Why are photos like this…. STILL POSTED🧐#cancelled #boycott #balenciaga #savethechildren pic.twitter.com/j9WuUAdcZg

— 🐥🐣 (@RIPTWITTA) November 22, 2022
Balenciaga APOLOGY IS BS!!!

Why are photos like this…. STILL POSTED🧐#cancelled #boycott #balenciaga #savethechildren pic.twitter.com/j9WuUAdcZg

— 🐥🐣 (@RIPTWITTA) November 22, 2022

Borremans creates real life images of children that are disturbing, to say the least.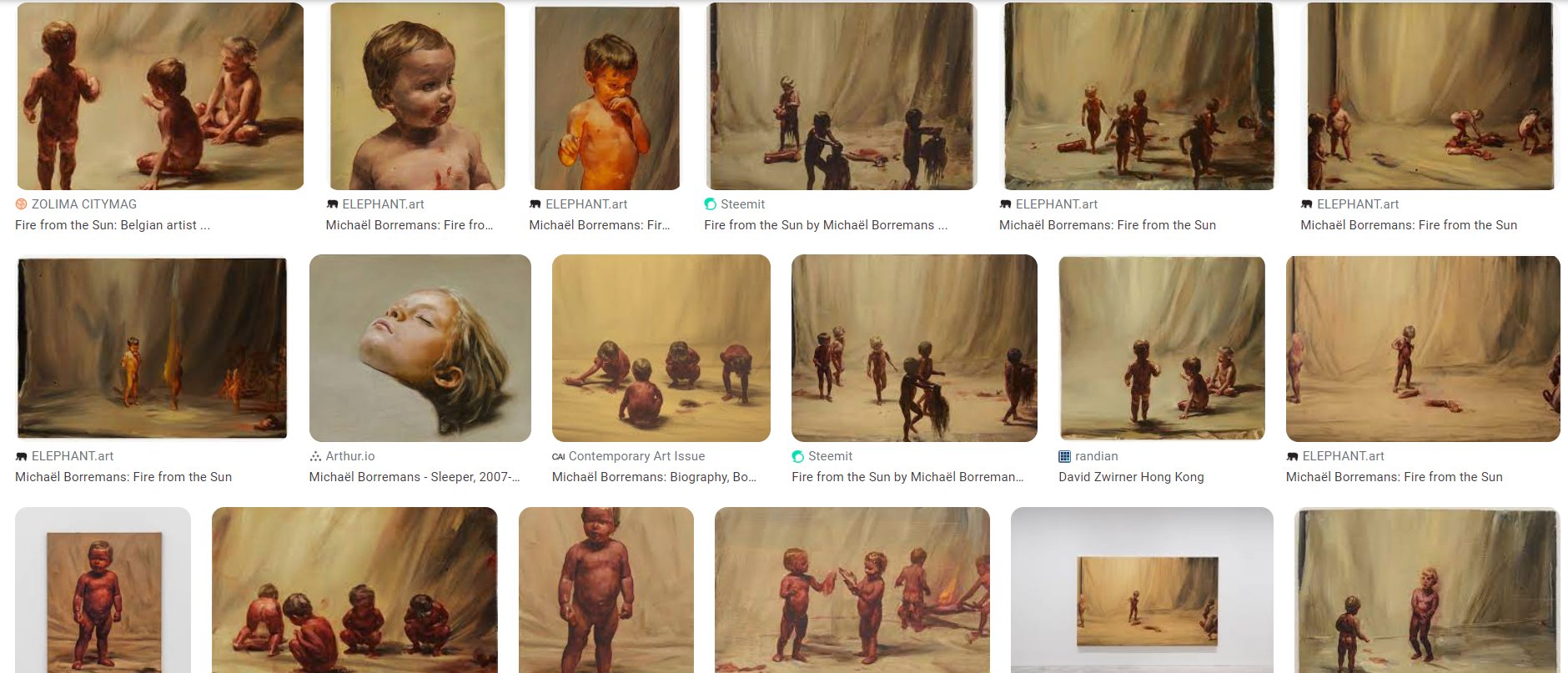 Author, Katya Tylevich of Elephant Art.com describes Borremans art:
"In the most evident terms, Fire From The Sun portrays children aged two or three in various stages of play with fire and what appear to be human limbs, even hair. The children are all light-skinned Sistine-style cherubs, sometimes covered in blood. The children do not appear to be distressed or disturbed (though some viewers at the gallery may be).
The drama of the paintings is heightened by their visual connection to each other—and, more broadly, to older works by Borremans. The scene in each painting is composed against a similar beige backdrop. This is a set or a stage, devoid of context, withholding of answers, but suggestive of a director or someone watching."
Tylevich continues:
"The paintings live in the seductive space of metaphor and possibility, which can stretch beyond the artist's intentions. Borremans created this body of work specifically for the opening; he knew that a local reading of it would have global variations.
Having travelled from Los Angeles to attend the opening, I juxtaposed these paintings against the morning's news: against cavalier acts of violence and bloody origins, against history's unwillingness to be erased, no matter the pressure to do so.
I heard other interpretations while there, and so did the artist: that the paintings examine the loss of innocence, that they are a caricature of original sin, that they meditate on hypocrisy, that they demonstrate human capacity to be at once good and evil."
This book is from his art collection called, "Fire from the Sun." The book was published by Simon & Schuster.
Naked children with bloodied body parts are throughout the book:
.
.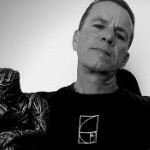 Moe is the founder of GnosticWarrior.com. He is a father, husband, author, martial arts black belt, and an expert in Gnosticism, the occult, and esotericism.