I am decidedly of opinion that our tradition is merely allegorical; for there can be no doubt but the Chief Architect was present at the dedication of the Temple. Thus we find that "Hiram made an end of doing all the work that he made King Solomon for the house of the Lord." (1 Kings vii. 40.) To place the fact of Hiram's being alive at the finishing the Temple beyond all doubt, it is said (2 Chron. iv. 11), "And Hiram finished the work that he was to make for King Solomon for the house of God,"–Historical Landmarks, vol. ii. p. 166.
147:1 A Grand Lecturer is elected annually at the session of the Grand Lodge of each State. His business is to teach the subordinate Lodges the Ritual of Freemasonry, and he is paid generally by salary, or so much from each Lodge before whom he may lecture.
149:1 See Robert Morris's Freemason's Monitor, 1860.
---
Next: Mark Master, or Fourth Degree
Index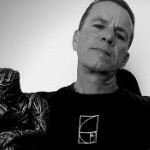 Moe is the founder of GnosticWarrior.com. He is a father, husband, author, martial arts black belt, and an expert in Gnosticism, the occult, and esotericism.