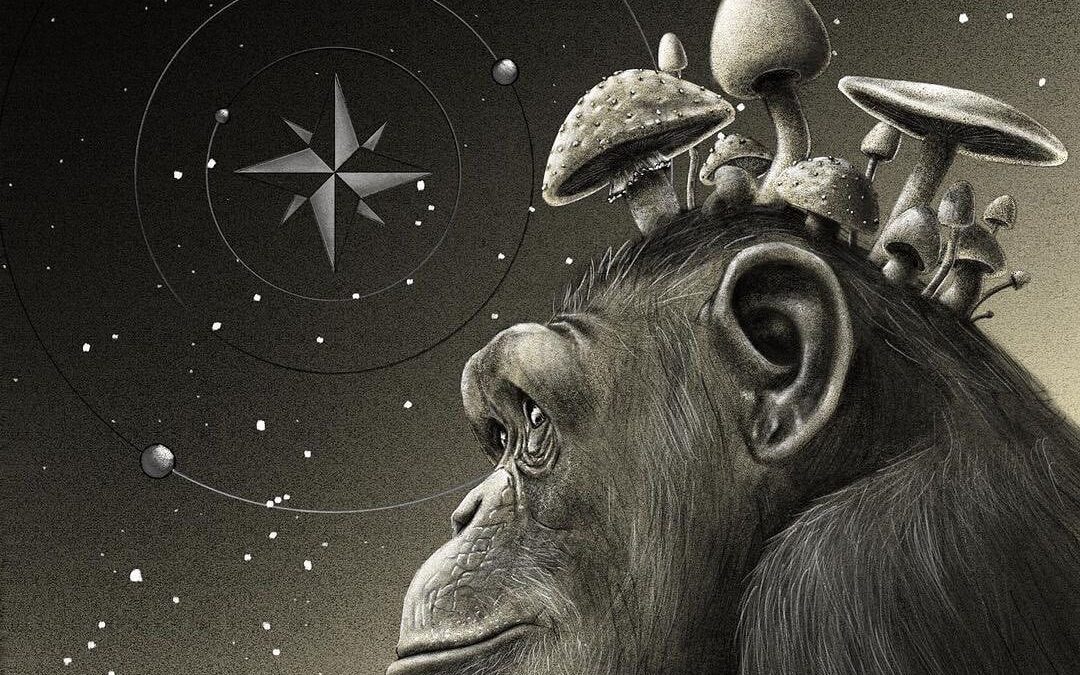 According to the "Stoned Ape Theory" developed by Terrence McKenna and his brother Dennis McKenna, a community of proto-humans might have consumed the magic mushrooms they found in the wild and eaten them.
After ingesting the psilocybin mushrooms, their brains kicked into overdrive, acquiring new information-processing capabilities, imagination, and a mind-blowing expansion of consciousness. In short, psychedelic mushrooms gave Homo sapiens the mental edge over other hominids and helped them evolve into modern humans.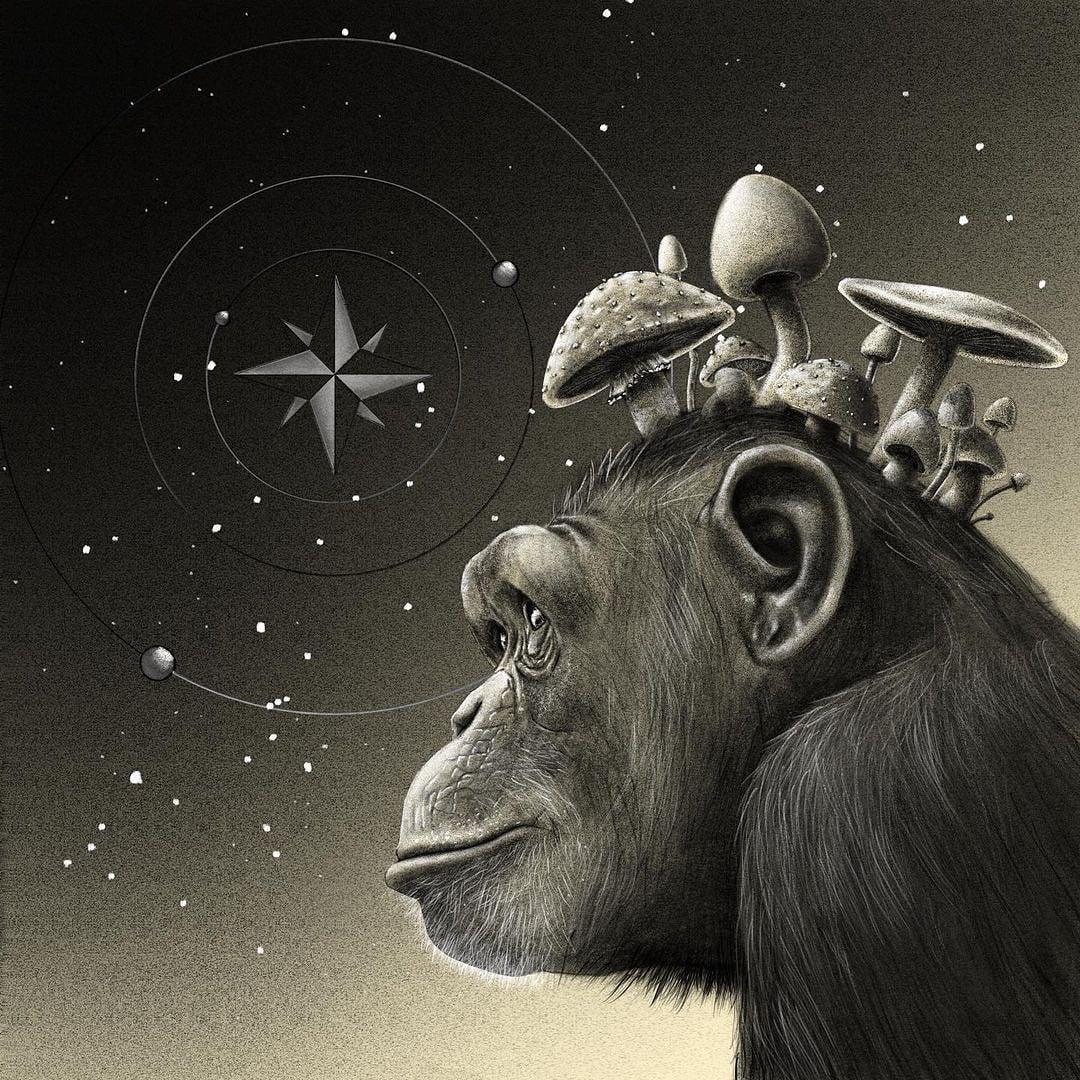 McKenna was an ethnobotanist, philosopher, psychonaut, researcher and author who devoted his life to studying psychedelics and proposing new ways to view society, spirituality and the human experience. He theorized how psychedelics could have been used by early humans to expand their minds and become more intelligent.
In 1992, Terence McKenna argued in the book, Food of the Gods that what Homo erectus to evolve into Homo sapiens was its encounter with magic mushrooms and psilocybin, the psychedelic compound within them, on that evolutionary journey. He called this the Stoned Ape Hypothesis.
The psychedelic drug opened up an entirely new way of perceiving reality for the early human species. They began to see the world in a way they had never seen it before – and just like that, man became self-conscious.
McKenna said, "Homo sapiens ate our way to a higher consciousness," and, "It was at this time that religious ritual, calendar making, and natural magic came into their own."
As humans evolved, the domestication of wild cattle led to time spent around cattle droppings, and because psilocybin mushrooms commonly grow in cow dung, "the human-mushroom interspecies codependency was enhanced and deepened," McKenna explained.
In his book 'The Invisible Landscape: Mind, Hallucinogens, and the I Ching' Terrence McKenna writes:
"I propose that the key to Homo sapiens' leap from primitive protohumanity to full humanity was a mutation in the control of psilocybin biosynthesis. It is now clear from molecular phylogenetic studies that psilocybin mushrooms are widely distributed in nature.
They appear to be common among the tropical and subtropical fungi growing on dung. It is impossible not to suspect that their presence so close to the lives of cattle and other grazing herbivores is not accidental." McKenna had written.
No one can say for certain whether or not this theory is true. However, some researchers believe that psychedelics played an important role in human evolution because they allowed our ancestors to think outside the box.
Fungi pioneer, Paul Stamets had substantiated McKenna's theory at Psychedelic Science 2017 in his presentation, "Psilocybin Mushrooms and the Mycology of Consciousness." Stamets also claims that consciousness, language, creativity, and imagination all were spurred by exposure to psychedelic mushrooms.
In his talk, Stamets said;
"What is really important for you to understand," he said, "is that there was a sudden doubling of the human brain 200,000 years ago. From an evolutionary point of view, that's an extraordinary expansion. And there is no explanation for this sudden increase in the human brain."
Paul Stamets is a mycologist, author and advocate of bioremediation and medicinal fungi. He is a major proponent of the idea that mushrooms are 'the earth's natural internet', and was awarded the National Geographic Adventurer of the Year award in 2008 for his discoveries of new species of psilocybin mushrooms.
The Stoned Ape Theory has never been tested or proven, but it has inspired several researchers to study the effects of psychedelics on cognitive abilities. In recent years, studies using MDMA, LSD and psilocybin have found evidence to suggest that these drugs can be effective treatments for depression, anxiety, and post-traumatic stress disorder (PTSD).
While I don't see myself as a mushroom guru or evangelist, I am passionate about educating others about the healing powers of mushrooms. As someone who has suffered from anxiety and depression for many years, I understand the importance of finding alternative ways to manage mental health symptoms.
My experiences with psilocybin mushrooms have inspired me to further research their benefits.
We know that brain development in primates is influenced by environmental factors like diet. We know that psilocybin is one of the most well-studied drugs for its potential therapeutic benefits, having shown promise in the treatment of depression, anxiety, cluster headaches, migraines, addiction disorders, anorexia nervosa, obsessive compulsive disorder (OCD), post-traumatic stress disorder (PTSD), and more.
We know that psilocybin — the psychoactive chemical in magic mushrooms — causes brain activity to shift from the default mode network (associated with ego and self-centered thought) to the salience network (associated with sensory perception). This allows for a mind-expanding experience where you are more attuned to your senses, lose your sense of time, and find new connections between seemingly unrelated topics.
In a 2003 study at Johns Hopkins, students were given psilocybin and observed while they entered into a trance. The results were astonishing; the students reported having a transcendental experience with mystical/spiritual overtones.
In the study, "psilocybin dose-dependently caused a shift from normal waking consciousness to a broad range of subjective effects including visions, mood elevation, psychological insight, and mystical experience."
The study also noted that "the volunteers' ratings of their experiences the day after the session included descriptions of deeply felt positive moods, psychospiritual experiences of emotional significance and reported benefits to well-being or life satisfaction."
In October 2018, Johns Hopkins University opened The Center for Psychedelic and Consciousness Research — the first research center of its kind in the United States since 1970s when psychedelic research was criminalized by the Controlled Substances Act. The center's director Roland Griffiths, has noted "the potential for benefit that psychedelics have for addressing some of the most important public health issues we face."
A team led by Robin Carhart-Harris at Imperial College London has published new data on how psilocybin affects the brain. The results of their study suggest that psilocybin may just be the trigger that initiated human evolution and consciousness.
The team scanned the brains of 20 healthy volunteers while they were under the influence of psilocybin in an fMRI machine. They found that the drug reduced blood flow in areas associated with higher cognitive functions, such as self-consciousness and identity, as well as ego-orientation.
They also found that the drug reduced connectivity between two key areas of the brain: the default mode network (DMN) and the hippocampus.
The DMN is thought to be responsible for processing information about self-consciousness, while the hippocampus is involved with memory and learning.
The stoned ape theory is just an idea brought to light by Terrence McKennna, who had researched extensively on the topic, and had some statistics and theories to back his statements up. After decades of research since his death by some of the world's foremost experts, it appears that the scientific studies are validating his claims.
Perhaps in the near future, Terrence Mckenna will be proven right.
SOURCES:
Image – artwork by Tony Gomez @ihanaart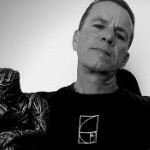 Moe is the founder of GnosticWarrior.com. He is a father, husband, author, martial arts black belt, and an expert in Gnosticism, the occult, and esotericism.